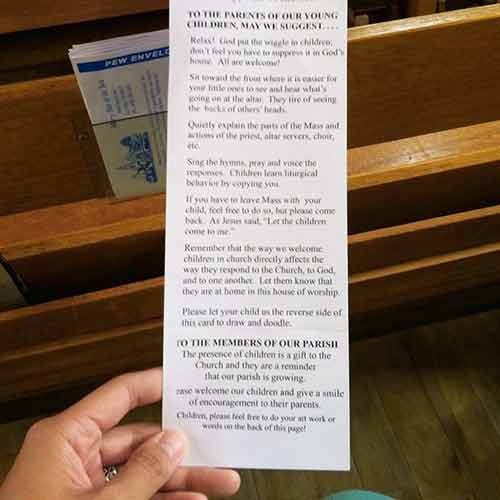 The above image is doing the rounds on social media (is this the original source?) I want to add this site's weight to the including of children in liturgy; to the inclusion of all God's children in liturgy; to the inclusion of all in the child-like actions of liturgy…
TO THE PARENTS OF OUR YOUNG CHILDREN, MAY WE SUGGEST…
Relax! God put the wiggle in children; don't feel you have to suppress it in God's house. All are welcome!
Sit toward the front where it is easier for your little ones to see and hear what's going on at the altar.
They tire of seeing the backs of others' heads.
Quietly explain the parts of the Mass and actions of the priest, servers, choir, etc.
Sing the hymns, pray, and voice the responses.
Children learn liturgical behavior by copying you.
If you have to leave the service with your child, feel free to do so, but please come back. As Jesus said, "Let the little children come to me."
Remember that the way we welcome children in church directly affects the way they respond to the Church, to God, and to one another. Let them know that they are at home in this house of worship.
Please let you child use the reverse side of this
card to draw and doodle.
TO THE MEMBERS OF THIS CHURCH
The presence of children is a gift to the Church and they remind us that our church is growing.
Please welcome our children and give a smile of encouragement to their parents.
Children, feel free to do your artwork or words on the back of this page!
I write about children at the Eucharist in my book Celebrating Eucharist.
Many Christian communities are without children, especially in their worship. Getting children is one of their goals. But it can feel as if they do not want real children. I have often said I was going to start a company which would produce cardboard-cutout "life-size" children that a community could place in its pews. These would sit quietly. Just like shrunk adults. So the community would have their wishes fulfilled: children in church without the messiness and inconvenience to the adults of real children.
Communities need to think through why they want children? And think through the outdated paradigm: children learn; adults worship.
So often the real motivation is to have the children there for the sake of the adults, for the sake of the church, the church's future, for the sake of the future of the pretty building… Children, and young people, sense this. Are we there for them, or are they really there for us?
Similar Posts: