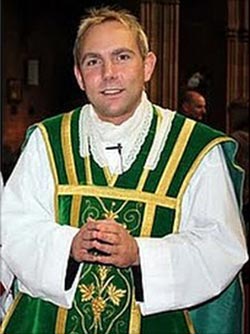 A potpourri post with papal pivot.
Ordinariate growth?
I can't pretend to fully comprehend the details etc. of the Roman Catholic Personal Ordinariate for disaffected Anglicans. My understanding is that if you grow up in it, and want to be a priest, you must be celibate.  "Anglican Patrimony" apparently means Elizabethan language but doesn't mean married priests and bishops, or synodical governance.
There's a grandfather clause for those married Anglican priests and bishops who join – they can be RC priests and if bishops previously, they can dress up as bishops and use episcopal titles even though RCs know they aren't really.
And RCs couldn't join the Ordinariate. Until now. Pope Francis has changed the rules. If you have been baptised but not confirmed or received communion, you can now join the Ordinariate.
Anglicans and the new Missal translation
Romaphile Anglicans have regularly plagiarised from the Roman Missal. Phrases and responses from the previous English translation are found licitly and illicitly inserted into Anglican rites. What I have not yet encountered is phrases and responses from the new 2011 English Missal translation used in Anglican Eucharists. Have you?
Roman Catholics and the new Missal translation
Dissatisfaction with the 2011 English Roman Missal translation continues. Some communities, as I predicted, only ever say the Apostles Creed (a novelty), not having the stomach for the new translation of the Nicene one. Sunday's collect obviously raised some eyebrows or more:
O God, who in the abasement of your Son have raised up a fallen world, fill your faithful with holy joy, for on those you have rescued from slavery to sin you bestow eternal gladness. Through…
New Missal latest revision
Pope Francis has announced that Joseph is to be added to Eucharistic Prayers II, III, and IV. Am I the only one who has noticed: We are all now very familiar with the lengthy process of consultation that now follows to show the collegiality of the bishops. English-speaking bishops internationally will consult and come up with an agreed appropriate translation into English. Each individual Conference of Bishops will then apply to the Vatican to approve and confirm the new text in English. There is no question of adding a sticky note, or writing in the sacred English-translation printed tomes of the Roman Missal. Nor can there be the risk taken that a priest will forget to add Joseph into the Eucharistic Prayer, thereby attempting to consecrate illicitly. All the recently-printed-and-purchased English-language Missals will have to be collected and destroyed reverently (as happened already in New Zealand when the bishops were unhappy that they didn't lie open flat enough on the altar). And the revised Missal printed and purchased.
Stepping down off the priestly pedestal
Fr. Bert Thelen, SJ decided to leave ordained Jesuit ministry and return to the lay state, the priesthood of the faithful bestowed on him by my Baptism nearly 80 years ago. He has served as parish priest, provincial staff member, and provincial during his 45 years of service. He writes:
…As Jesus commanded so succinctly, "Don't Lord it over anyone … serve one another in love." As an institution, the Church is not even close to that idea; its leadership works through domination, control, and punishment. So, following my call to serve this One World requires me to stop benefiting from the privilege, security, and prestige ordination has given me. I am doing this primarily out of the necessity and consequence of my new call, but, secondarily, as a protest against the social injustices and sinful exclusions perpetrated by a patriarchal church that refuses to consider ordination for women and marriage for same- sex couples…
In other news
You will now be able to get an indulgence by following twitter.
Pope Francis waives need for two miracles for canonisation.
Similar Posts: