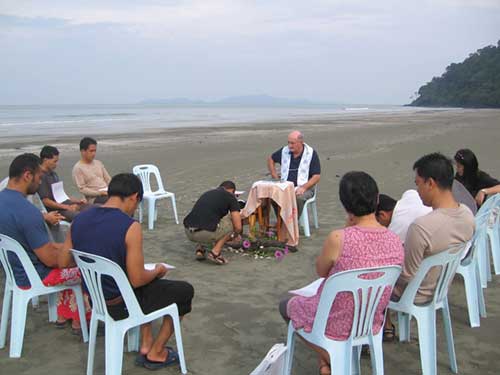 Other than who can love whom, there is nothing that gets Anglicans quite so riled up as
Should you dare to wear a cope in procession while not being an archdeacon or a dean – you will very soon be told not to dress above your station. And whether canons process before or after archdeacons will have careful protocols. If you are a canon, an archdeacon, and someone with a doctorate, then there are years of conventions behind how to carefully, correctly construct the final title in front of your name.
All this is clearly very significant to Jesus!
And so now the Church of England's General Synod is in the process of consultation to see if its robing rules can be relaxed. The Guardian's reporting appears confused (surprise!) It says that London vicar Christopher Hobbs claims "For holy communion there is no flexibility… Surplice and alb is required, with scarf or stole". I presume he means surplice or alb. Both are essentially the same vesture – the surplice just being an alb that is larger so that it can go over another warm garment (cassock – essentially a long coat).
Someone else might indicate the robing rules in the Book of Common Prayer, and remind us whether those rules are still binding in Aotearoa New Zealand, otherwise the only robing rule that I'm aware of in A New Zealand Prayer Book He Karakia Mihinare o Aotearoa is
The presiding priest at the Eucharist should wear a cassock and surplice with stole or scarf, or an alb with the customary vestments. (page 515)
"Should", of course, is one level below "shall". It is notable that, clearly intentionally, there is no attempt to delineate what is "customary".
I write the following about vesture in my book Celebrating Eucharist:
Vesture conveys messages about ministry, about presiding, and about beauty, art and hence creation. All our ministry has its source in our baptism and an alb or cassock is by no means the preserve of the ordained. If, however, a community requires laity to be vested in special liturgical vesture in order to exercise ministry as laity this may send confused theological messages. Such a community may wish to reflect whether it would be more helpful to have laity who read, lead the Prayers of the People, or administer the Sacrament, do so dressed in ordinary clothing. Those who prepare the holy table (servers) could similarly come up from the congregation, complete their task and return to their place.

Such decisions again need to take account of the community, architecture and size of the building, size of the congregation, and relative importance of the celebration. Some buildings invite processions or several people robed, others do not. Liturgy done dramatically need not become divided between "cast" and "audience." For some the nonverbal is the essential. Someone joked about the illiterate young man whose task appeared to be little more than hold a candle at the Eucharist as he tried to "lip sync" the hymns and prayers. "That is not the lad holding the candle," retorted the Vicar, "that is the candle holding the lad."

The presider's vestments can be simple yet beautiful. Stole and chasuble (like the alb) are conservative garments ordinarily worn at the time of Christ (and still worn in many parts of the world). They are not symbolic (efforts to give them symbolic value are "allegorical"). Wearing them can no longer be construed as promoting a certain "churchmanship" or theology of the Eucharist. They are more akin to a uniform. As such they are undergoing modification. The maniple is seldom seen now, many are no longer wearing the girdle, and the stole is now often worn over the chasuble.

The colours of the vestments are an example of signs which require some education to appreciate. Any symbols on vestments need to be simple, visible from a distance, and easily understood. (Do many worshippers know what IHS stands for, or XP?) Large vestments which may be required for a spacious worshiping environment, may be completely out of place in a small chapel, home group, or house communion.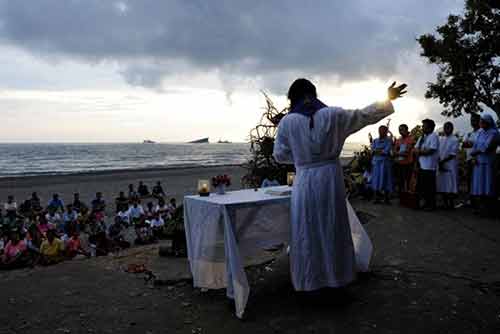 Yes, until we have an improved study, training, and formation on liturgy, we may need rules (tiresomely) about vesture. Anti-catholic prejudice, and just plain rebellion against tradition, with unproven spin about contemporary mission, also means that we seem not mature enough yet to simplify our rules.
So, normally, presiding at Eucharist, I would vest with the vast majority Christian experience – alb, chasuble, stole – that, over the centuries and across the millions around the globe, is like a Christian presider's uniform for the Eucharist. The photo at the top appears to me to be perfectly appropriate for such a beach eucharist. In the photo below, wearing an alb would have been fine; not wearing one also seems OK. [Wearing an alb would mean he would have fulfilled NZ's Anglican requirements] The presider dressing in the manner of those two photos in a (neo) gothic cathedral I think would be inappropriate. In the middle photograph, of a priest presiding at a Eucharist on the beach with relatives of victims of Princess of the Stars ferry, he is wearing an alb – again, to me, he has judged the level of appropriate formality well. To compare again, on the other hand, I well remember a small house group Eucharist, sitting around in sofas in Northern Australian full heat, where the priest vested in every last piece of possible vestments – I guess he was within/fulfilling "the rules" but there was such a disconnect with the context that it would have given any visitor the impression this was a send-up.
What do you think?
If you appreciated this post, do remember to like the liturgy facebook page, use the RSS feed, and signing up for a not-very-often email, …
Similar Posts: