The Vatican Website: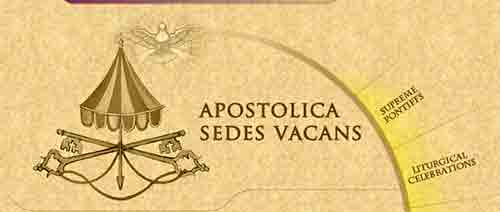 The pope's twitter profile: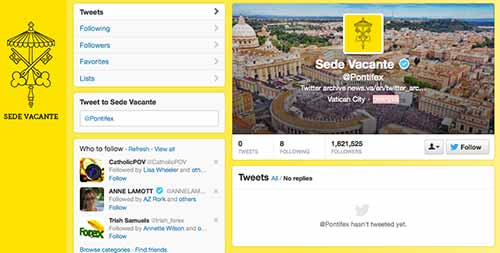 Benedict XVI decided he is to be known as "emeritus pope" or "emeritus Roman pontiff" in his retirement. He continues to be called "Your Holiness", and continues to wear the white cassock/soutane. [On his last day as pope, he seemed to be wearing a white, double-breasted long coat.] He will live in the Vatican and share staff (Archbishop Georg Gänswein) with the next pope. [There had been some expectation he would return to black. There is no mention of Bishop of Rome in his retired title].
Headline: Benedict XVI and extreme traditionalist Roman Catholics now agree – the seat is vacant. Sedevacantists are Traditionalist Catholics who believe that the seat is vacant (and has been essentially since the death of Pope Pius X).
But not everyone agrees…
Liturgical ps. During the sede vacante, Eucharistic Prayers are altered – there is no mention of the pope. Eg.
Eucharistic Prayer II
Remember, Lord, your Church,
spread throughout the world,
and bring her to the fullness of charity,
together with N. our Bishop
and all the clergy.
If you appreciated this post, there are different ways to keep in touch with the community around this website: like the facebook page, follow twitter, use the RSS feed,…
Similar Posts: