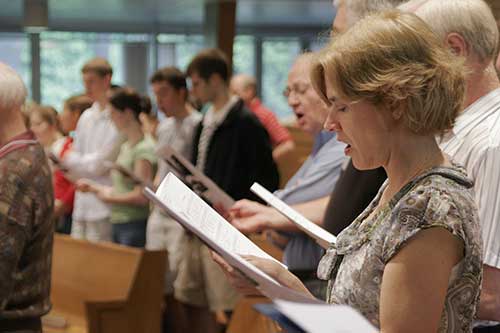 Singing in worship is one of the most important dimensions of liturgy. Singing is attractive, prays twice, gives worship vitality, forms community, reinforces memory…
Let's put to one side for another day the good statement that we don't sing at the liturgy, the liturgy is sung, and focus on the concrete decisions we have to make about singing.
A helpful discussion about choosing hymns and songs came up again recently, and I think it is worth having a separate blog post about this. I use the words 'hymns' and 'songs' interchangeably.
Here are my suggestions for an average parish community:
Use about 100 well known hymns and songs
Learn at most 10 new hymns a year
You can have half-a-dozen psalm chants to which all psalms can be chanted – choose the particular chant to fit the mood of the psalm; and/or you can have half-a-dozen different refrains the congregation sings to a cantor's singing of the psalm verses, with the particular refrain chosen on each occasion to match the mood of the psalm
Choice of what is sung for a service need not fit tightly into a "theme", but style and content should not grate together
Sing as much of the liturgy as possible; don't use more than two different settings
Have a strong community gathering hymn; if at all possible, after the first lesson, sing the psalm; you don't need a hymn between the second lesson and the Gospel – a sung 'Alleluia verse' works very well (with a cantor singing the verse, and all singing a well-known, enthusiastic 'Alleluia'); sing a strong sending-out song at the end.
Be cautious about choir pieces trending worship to performance; but also, a choir usually needs to be more than solely leading and undergirding community worship – a difficult, creative tension
What can you add or discuss?
Similar Posts: