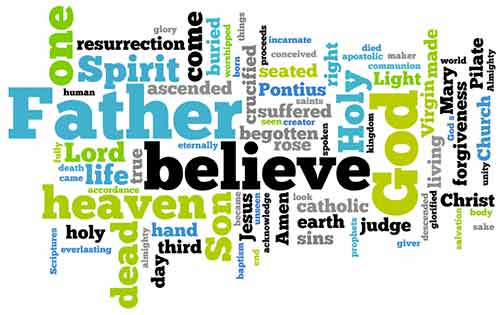 Here, collected together, are 32 posts on the Creed. There are ideas and springboards here for preaching, teaching, or discussion groups.
The first is Apostles' Creed.
The second is I believe in God.
The third is a source of the Apostles' Creed.
The fourth is I believe in the Father.
The fifth is Handing over the Creed.
The sixth is I believe in Jesus Christ, God's only Son
The seventh is Don't use the creed in worship
They eighth is Truly God truly human
The ninth is Conceived by the Holy Spirit
The tenth is Don't use the creed in worship (part 2)
The eleventh is Born of the Virgin Mary
The twelfth is Don't use the creed in worship (part 3)
The thirteenth is Crucified under Pontius Pilate
The fourteenth is crucified
The fifteenth is Holy Saturday
This sixteenth is He descended to the dead
The seventeenth is on the third day he rose again
The eighteenth is Seated at the right hand of the Father
The nineteenth is Judge the living and the dead
The twentieth is I believe in the Holy Spirit
The twenty-first is But Wait, There's More!
The twenty-second is And the Son
The twenty-third is Filioque
The twenty-fourth is Two hands of God
The twenty-fifth is Don't believe in the Church
The twenty-sixth is I believe one Church
The twenty-seventh is I believe in holy church
The twenty-eighth is I believe in catholic church
The twenty-ninth is I believe in apostolic church
The thirtieth is The Communion of Saints
The thirty-first is The Forgiveness of Sins
The thirty-second is Life Everlasting
These posts were produced, some years back, and this post is, hence, in the form of Throwback Thursday.
If you appreciated this post, consider liking the liturgy facebook page, and/or signing up for a not-very-often email, …
Similar Posts: