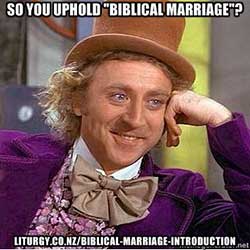 Since this site did a post on Biblical Marriage, The Marriage (Definition of Marriage) Amendment Bill was one of five private member's bills drawn from the ballot in the New Zealand Parliament towards the end of July. This has increased the intensity of discussion about the nature of marriage in the Bible. Here's some quotes relating to marriage directly from the Bible:
1 Chronicles 3:1-5
These are the sons of David who were born to him in Hebron: the firstborn Amnon, by Ahinoam the Jezreelite; the second Daniel, by Abigail the Carmelite; the third Absalom, son of Maacah, daughter of King Talmai of Geshur; the fourth Adonijah, son of Haggith; the fifth Shephatiah, by Abital; the sixth Ithream, by his wife Eglah; six were born to him in Hebron, where he reigned for seven years and six months. And he reigned for thirty-three years in Jerusalem. These were born to him in Jerusalem: Shimea, Shobab, Nathan, and Solomon, four by Bath-shua, daughter of Ammiel;
NB. Acts 13:22
When [God] had removed [Saul], he made David their king. In his testimony about him he said, "I have found David, son of Jesse, to be a man after my heart, who will carry out all my wishes."
Deuteronomy 21:11-13
suppose you see among the captives a beautiful woman whom you desire and want to marry, and so you bring her home to your house: she shall shave her head, pare her nails, discard her captive's garb, and shall remain in your house for a full month, mourning for her father and mother; after that you may go in to her and be her husband, and she shall be your wife.
Deuteronomy 22:28-29
If a man meets a virgin who is not engaged, and seizes her and lies with her, and they are caught in the act, the man who lay with her shall give fifty shekels of silver to the young woman's father, and she shall become his wife. Because he violated her he shall not be permitted to divorce her as long as he lives.
Deuteronomy 22:13-22
Suppose a man marries a woman, but after going in to her, he dislikes her and makes up charges against her, slandering her by saying, 'I married this woman; but when I lay with her, I did not find evidence of her virginity.' The father of the young woman and her mother shall then submit the evidence of the young woman's virginity to the elders of the city at the gate. The father of the young woman shall say to the elders: 'I gave my daughter in marriage to this man but he dislikes her; now he has made up charges against her, saying, "I did not find evidence of your daughter's virginity." But here is the evidence of my daughter's virginity.' Then they shall spread out the cloth before the elders of the town. The elders of that town shall take the man and punish him; they shall fine him one hundred shekels of silver (which they shall give to the young woman's father) because he has slandered a virgin of Israel. She shall remain his wife; he shall not be permitted to divorce her as long as he lives.
If, however, this charge is true, that evidence of the young woman's virginity was not found, then they shall bring the young woman out to the entrance of her father's house and the men of her town shall stone her to death, because she committed a disgraceful act in Israel by prostituting herself in her father's house. So you shall purge the evil from your midst.
If a man is caught lying with the wife of another man, both of them shall die, the man who lay with the woman as well as the woman. So you shall purge the evil from Israel.
Deuteronomy 25:5-10
When brothers reside together, and one of them dies and has no son, the wife of the deceased shall not be married outside the family to a stranger. Her husband's brother shall go in to her, taking her in marriage, and performing the duty of a husband's brother to her, and the firstborn whom she bears shall succeed to the name of the deceased brother, so that his name may not be blotted out of Israel. But if the man has no desire to marry his brother's widow, then his brother's widow shall go up to the elders at the gate and say, 'My husband's brother refuses to perpetuate his brother's name in Israel; he will not perform the duty of a husband's brother to me.' Then the elders of his town shall summon him and speak to him. If he persists, saying, 'I have no desire to marry her', then his brother's wife shall go up to him in the presence of the elders, pull his sandal off his foot, spit in his face, and declare, 'This is what is done to the man who does not build up his brother's house.' Throughout Israel his family shall be known as 'the house of him whose sandal was pulled off.'
Numbers 31:16-17
These women here, on Balaam's advice, made the Israelites act treacherously against the Lord in the affair of Peor, so that the plague came among the congregation of the Lord. Now therefore, kill every male among the little ones, and kill every woman who has known a man by sleeping with him. But all the young girls who have not known a man by sleeping with him, keep alive for yourselves.
Exodus 21:1-6
These are the ordinances that you shall set before them:
When you buy a male Hebrew slave, he shall serve for six years, but in the seventh he shall go out a free person, without debt. If he comes in single, he shall go out single; if he comes in married, then his wife shall go out with him. If his master gives him a wife and she bears him sons or daughters, the wife and her children shall be her master's and he shall go out alone. But if the slave declares, 'I love my master, my wife, and my children; I will not go out a free person', then his master shall bring him before God. He shall be brought to the door or the doorpost; and his master shall pierce his ear with an awl; and he shall serve him for life.
Luke 16: 18
Jesus said, 'Anyone who divorces his wife and marries another commits adultery, and whoever marries a woman divorced from her husband commits adultery.
Colossians 3:18
Wives, be subject to your husbands, as is fitting in the Lord.
Ephesians 5:22-24
Wives, be subject to your husbands as you are to the Lord. For the husband is the head of the wife just as Christ is the head of the church, the body of which he is the Saviour. Just as the church is subject to Christ, so also wives ought to be, in everything, to their husbands.
1 Timothy 3:2,12
Now a bishop must be above reproach, married only once
Let deacons be married only once
Any questions?
1 Corinthians 14: 33-35
As in all the churches of the saints, women should be silent in the churches. For they are not permitted to speak, but should be subordinate, as the law also says. If there is anything they desire to know, let them ask their husbands at home.
Similar Posts: