Here is a free digital copy of Celebrating Eucharist by Bosco Peters in two formats: as web pages and as PDFs (scroll down for the latter).
This material and these resources may be used
provided that reproduction is not for commercial purposes, and
there is attribution "From Celebrating Eucharist by Bosco Peters (www.liturgy.co.nz)".
If quoting from the book on a website, you must also also include a clickable link back to the webpage here that you are quoting from.
The book was initially published by DEFT and is still available in printed form from some bookshops.
If you are interested in reflecting more on the principals and foundations that underly this book, I suggest that you take time to watch the following video:
Web version of Celebrating Eucharist
Foreword & Preface
Introduction
1 Liturgy
2 Leading Worship
3 Ceremonial Action
4 The Worship Environment
5 Preparation
6 The Gathering of the Community
7 The Proclamation
8 The Prayers of the People
9 The Peace
10 The Preparation of the Gifts
11 The Great Thanksgiving
12 The Breaking of the Bread
13 The Communion
14 Prayer after Communion
15 The Dismissal of the Community
16 Celebrating Baptism at a Eucharist
17 Celebrating other services with a Eucharist
18 Children at the Eucharist
19 Service of the Word with Holy Communion
20 Some Resources for the Church Year
21 Additional Eucharistic Prayers
22 Services for a New Beginning (Catechumenate)
23 A Service of Institution and Welcoming
24 Examples of Prayers of the People
25 The Calendar
Short List of Further Resources
PDF version of Celebrating Eucharist
Contents
Foreword & Preface
Introduction
1 Liturgy
2 Leading Worship
3 Ceremonial Action
4 The Worship Environment
5 Preparation
6 The Gathering of the Community
7 The Proclamation
8 The Prayers of the People
9 The Peace
10 The Preparation of the Gifts
11 The Great Thanksgiving
12 The Breaking of the Bread
13 The Communion
14 Prayer after Communion
15 The Dismissal of the Community
16 Celebrating Baptism at a Eucharist
17 Celebrating other services with a Eucharist
18 Children at the Eucharist
19 Service of the Word with Holy Communion
20 Some Resources for the Church Year
21 Additional Eucharistic Prayers
22 Services for a New Beginning (Catechumenate)
23 A Service of Institution and Welcoming
24 Examples of Prayers of the People
25 The Calendar
Short List of Further Resources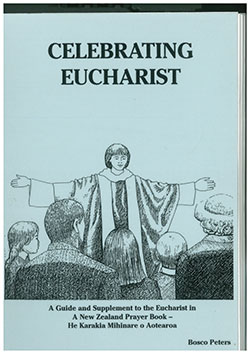 centre
← Left Div
Right Div →