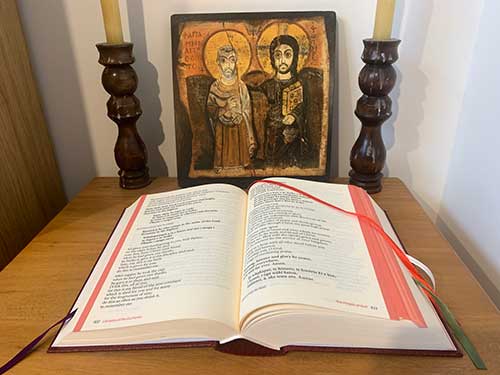 It may be time for bishops, as leaders of the Anglican Church in Aotearoa, New Zealand and Polynesia, and also for the Standing Committee of General Synod/Te Hīnota Whānui (GSTHW) to take a stand and announce that the 2020-published book called A New Zealand Prayer Book He Karakia Mihinare o Aotearoa (NZPB2020) is a draft "proposed book seeking feedback".
NZPB2020 is too riddled with errors, inconsistencies, confusion, and unconstitutionality to be allowed to be understood as having the same status as the 1989-2005 editions of books with the same name. On the other hand, the resources bound together in NZPB2020 are a major step forward from NZPB1989-2005. And, once improved and then authorised by GSTHW, this would become a much better common prayer book for our Church.
NZPB2020 has far more in Te Reo Māori and also in the languages of Polynesia. As part of the discussion around this proposed book, there needs to be a serious conversation whether Polynesia needs to be added to the title of the book. We assert that Polynesia is a full and equal partner in our Church. Is the absence of Polynesia in the title uninclusive, paternalistic, and condescending? Furthermore, is it time to have more Polynesian artwork included?
There is precedence for such a proposed book. The Church of England's published 1928 Book of Common Prayer was never authorised there, but agreements were reached that those using it would not be disciplined. In 1976, The Episcopal Church released a "proposed" Book of Common Prayer which then proceeded through its constitutional processes of the General Convention (its equivalent of our GSTHW) and published the final, authorised book in 1979.
In previous posts in this series, I have highlighted that
NZPB2020 is not the "A New Zealand Prayer Book He Karakia Mihinare o Aotearoa" that is embedded in our Church Constitution as binding on us for doctrine and practice
NZPB2020 has services bound within its covers that are not formularies (agreed by the "twice round" process to be binding on the Church)
There are errors in NZPB2020 that can be tidied up (eg. The Presentation for Baptism is omitted in Arrangement A (page 396) and Arrangement D (page 397), God's Call is twice in B,…)
NZPB2020 has defied what is required by GSTHW
Sections of our agreed and binding formularies have simply been removed from NZPB2020 without being noted or explained.
It is time to improve the Daily Services (pages 58-95). COVID, lockdowns, online services, and my own regular discussions have highlighted a yearning for the discipline of regular, biblical prayer, the prayer discipline that is found in a Daily Office. But these conversations have also highlighted that the "Daily Services" in NZPB (pages 58-95) are neither simple enough for most beginners, nor elaborate enough for most persons seeking a discipline that will last a lifetime.
Most people new to the Daily Office find the languages and layout of pages 58-95 off-putting. On the other hand, most people used to a more fulsome Daily Office, find pages 58-95 monochrome. As just one example, except for adding or removing an "Alleluia" there is no difference between praying Morning Prayer this 5th Day of the Great Easter Season (Easter Thursday) and, say, Maundy Thursday!
Celebrating Common Prayer – A Version for Aotearoa, New Zealand, and Polynesia was one attempt to produce a more fulsome Daily Office. It is adapted from The Daily Office of The Society of Saint Francis (Anglican Franciscans). The Church of England's Common Worship Daily Prayer expanded the principles of The Daily Office of The Society of Saint Francis to produce an Anglican Daily Office (complete with apps and online versions) which could be an inspiration for a revision here.
Archbishop Michael Ramsey expresses well the power and point of the discipline of the Daily Office:
The point of the Daily Office is to root your prayer in the scriptures and in the Church's corporate prayer. The Daily Office in psalm and canticle and lection tells of God's historic revelation and redemption and of the response of the Church down the ages in praise and thanksgiving. We need to soak ourselves in this if our prayer is to be fully in Christ's name and to his glory, and one with the redeemed people of God. In the Daily Office we are lifted beyond the contemporary, and let us be sure that we will serve the contemporary scene effectively only if we are sometimes lifted beyond it, praying with the Church across the ages and with the communion of God's saints.

Archbishop Michael Ramsey
Further posts on NZPB2020 are listed here.
.
Similar Posts: