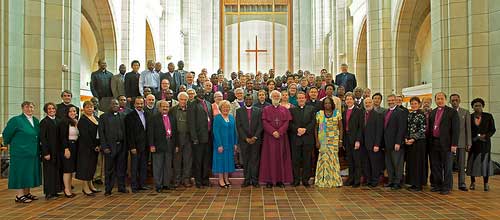 I am trying to collect together here some of the dispersed resources connected with the meeting of the Anglican Consultative Council ACC15 in Auckland Oct. 27-Nov. 7 2012. As well as comments, if you know of or have other resource please add them in the comments section below.
The resolutions passed at ACC15

The five Marks of Mission have been amended by expansion rather than addition of a sixth (unfortunately memorisability is decreasing). There is no progress towards including worship as part of our mission as church, and as Christians!!! (See my open letter here and updated here). For a motion from an individual to succeed at ACC it needs 10 seconders! There is no prize for guessing the motion I will be bringing to our next diocesan synod to go to our General Synod Te Hinota Whanui to go to ACC16! If you are reading this from another province: join in the race! If you've got better wording than I've been suggesting – let me know.
The Bible in the Life of the Church project, led by New Zealand's Archbishop David Moxon, can be downloaded here (20 MB).
I gather, from different sources, that the mood/atmosphere at ACC was positive and united, improving on the recent past. Let us hope and pray that this bodes and models for the future and for the Communion.
The enervated "Anglican Covenant" was reported about by the Inter-Anglican Standing Committee on Unity, Faith and Order (IASCUFO). This is charged only with monitoring reception of the "Covenant". But with not a lot of "reception" happening, No Anglican Covenant NZ (led by my friend and colleague the Ven. Lawrence Kimberley) has several people who point out IASCUFO slides quickly into advocating for it (see here and here and here). As someone with a Maths degree it always fascinates me what people can do with stats: Three categories were created in the monitoring of reception. Category A, that have approved the "Covenant", includes… Aotearoa, New Zealand and Polynesia! (Which part of "No" does IASCUFO not understand? I think our province feels like the video following, starting at 0:38)
But ACC could not bring itself to have a resolution on the "Anglican Covenant" – being English-polite, I guess, at the last attendance of the current Archbishop of Canterbury who promoted it. [ACC having altered the Marks of Mission, the "Anglican Covenant" is now not only languishing, but also more obviously in error, as the Marks of Mission it insists on glossing are no longer the Marks of Mission of the Anglican Communion. See more here].
It has been (un)surprisingly difficult to find out what was happening or going to happen at ACC15, even when it was billed as a "once-in-a-lifetime event" here. [See here and pdf. The promise "Websites to watch: Info about ACC15 will be posted to the General Synod website (www.anglican.org.nz) as it comes to hand" is fulfilled by this nearly-blank page here]. Senior clergy in our province, even those employed to disseminate information, could not work out, or got wrong, who our delegates were (in our own country!). The list is here.
I found out very late here that the actual sessions were not even public. With encouragement for people to go to it – I'm still not sure what they actually got to be part of. I only found out by accident that Dr Jenny Plane Te Paa and her team of Dr Helen-Ann Hartley, the Ven Dr Lynda Patterson, the Revd Amy Chambers, and the Rev Sarah Park prepared and led daily Bible studies on II Corinthians. I would not know where to locate those studies.
The full text of the Archbishop of Canterbury's opening sermon at ACC15 is here.
The full text of the Archbishop of Canterbury's sermon at the Eucharist I participated in in Christ's College Chapel is here.
MP3 files of the Archbishop's answers to young people that afternoon are here.
Presidential Address by the Archbishop of Canterbury
Podcasts here, here, and here.
Rev. Peter Carrell blogs about ACC15 here and here and elsewhere on his site.
Canadian bloggers at ACC15
VirtueOnline here and here.
Similar Posts: