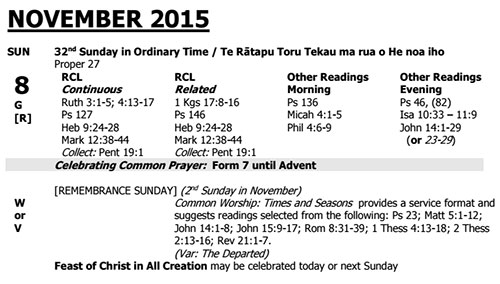 This coming Sunday, in the Anglican Church in Aotearoa, New Zealand and Polynesia of Or, the lectionary indicates (above) the liturgical colour is Green, or Red, or White, or Violet. This "reflects common practice in most parishes" (Lectionary page 4).
First prize goes to the first person who can calculate the number of reading options provided: Mark or Ruth & Mark or Ps 23 & Mt; or etc or etc or…
You can celebrate the 32nd Sunday in Ordinary Time, or Proper 27, or Remembrance Sunday, or Feast of Christ in All Creation [no reading options provided for this last option]…
This "Proper" numbering of Sundays ("Proper 27" in this case) is a new numbering system introduced this year. Do tell me where, in the Lectionary booklet, it is explained what it actually refers to – because I can't spot it. "Proper 1" is "5th Sunday in Ordinary Time" (8 February) – so at that point it is Sunday in Ordinary Time = Proper + 4. But for this coming Sunday it is 32nd Sunday in Ordinary Time = Proper 27 + 5!!! So somewhere a Sunday has slipped.
What will I be doing? This coming Sunday I will use Green [I have no sympathy for kowtowing to mummy CofE, those who find Ordinary Time far too long and now start counting backwards to Advent and, bored with Green, pick the colour they have been using least – ah Red – making any understanding of the colour scheme incomprehensible]. It is the 32nd Sunday in Ordinary Time, that's the Sunday in the 32nd ordinal (counting rather than ordinary-not-exciting) week. The Gospel reading will be the one used by most Christians – from Mark 12:38-44; the second reading is Hebrews 9:24-28; and I understand the choices available for First Testament and Psalm.
Let's hope and pray General Synod Te Hinota Whanui has the good sense to not pass Statute 713, and let's hope they send that and Liturgical Precedence 2009 for some real work together. Or else we will have yet another option: counting Sundays in Ordinary Time from Candlemas (The Presentation of Jesus in the Temple; February 2) which would make this coming Sunday something like the 26th Sunday in Ordinary Time in NZ – while the rest of the church is on the 32nd Sunday in Ordinary Time!
If you appreciated this post, consider liking the liturgy facebook page, using the RSS feed, and/or signing up for a not-very-often email, …
Similar Posts: