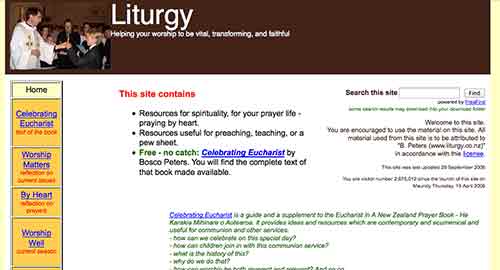 Many of you know that I have been redesigning this website [and rebuilding under the hood].
This website began Maundy Thursday 2006 – originally as a place to make my book Celebrating Eucharist available free digitally. You can look at the different ways this website looked throughout its history on the WayBack Machine [If you haven't found that backup of the internet yet, have fun looking back at other websites as well]. This site, by September 2006 (image above), alongside Celebrating Eucharist, already had many of the components you are used to: reflections on collects, news, opinions, humour,…
What do you think of the current design?
The fonts?
The size of the fonts (the shade of the fonts)?
The colour of the background (white)?
The colour scheme (blue & green)?
Varying the background colours corresponding to the liturgical year has gone, as has the header image.
Thanks for the feedback so far. As I redesigned I asked for suggestions and reflections. With one exception people like the new font and the white background – one person found it harder to read. Most wanted the tagline to stay as it is. People liked the colour scheme. Thanks for the feedback, and looking forward to more.
There are further design features to come. These include:
Better integration with the facebook page
The right hand side of the home page will have more material
Drop down menus will go
"Similar posts" may be better presented
Some more fonts need to be brought into line
What is not changing: the type, variety, and quality of content. The culture of the community that gathers here.
Are there other features you would like?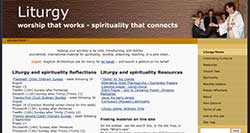 The site was originally built using DreamWeaver. I really didn't know what I was doing. It was all trial-and-error.
I then purchased RapidWeaver software and took six months to completely rebuild the site. The image on the left shows what the site looked like in August 2007.
Later, I started to appreciate WordPress as a blogging platform, and for some time ran the site on two platforms simultaneously: WordPress for blogging, RapidWeaver for static pages – with a pretty seamless move between the two.
Finally I decided to move everything over to WordPress as the platform for everything. I purchased Headway (a drag-and-drop WordPress theme). Some pages are still in the RapidWeaver format, but with the new look you are seeing, that will need to end.
Finally, a reminder what the site looked like before the recent new look: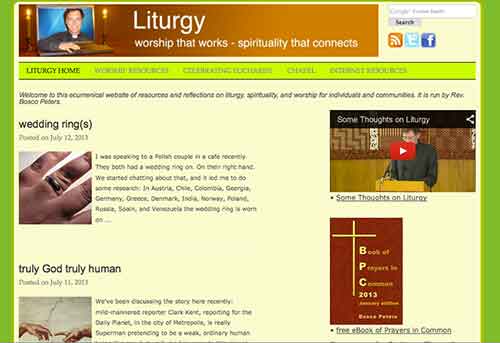 Similar Posts: