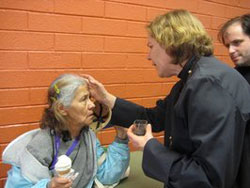 Ashes on the go isn't going to go.
Bringing Ash Wednesday to the streets is a movement. More than 40 Episcopal parishes in 11 states in USA will take to the streets on Ash Wednesday, Feb. 22, marking the beginning of Lent with "Ashes to Go."
Diocese of Chicago Bishop Jeff Lee is an enthusiastic supporter of marking Ash Wednesday in the streets. "My most memorable experience last year was with a woman who told me that she had left the church years ago," he says. "She received the ashes and our prayers gratefully and then she looked up and with tears in her eyes, she said to me, 'I just can't believe you would bring the church out here to us.'"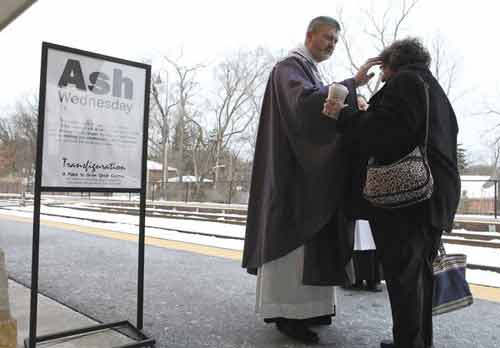 Rev. Lane Hensley of the Church of the Transfiguration in Palos Park, Illinois came out in the early morning to the commuter rail station and distributed ashes to commuters on their way to work.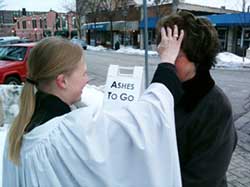 Two other Chicago priests, the Rev. Emily Mellott, of Calvary Episcopal Church in Lombard, IL, and the Rev. George Smith of St. Mark's in Glen Ellyn, had the same idea (independently of each other!) and acted on it.
Poke around the web and you find it here and here and here.
Not everyone thinks it is a good idea.
What do you think?
Similar Posts: