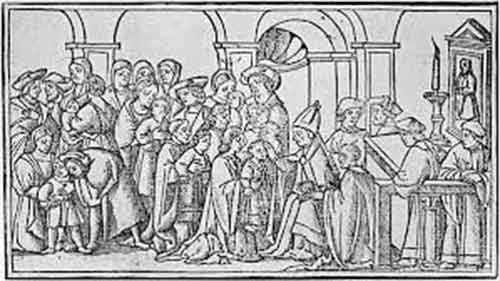 In the rubrics of the 1549 Book of Common Prayer rite of confirmation it states:
The curate [rector, vicar] of every parish once in sixe wekes at the least upon warnyng by him geven, shal upon some Soonday or holy day, half an houre before evensong openly in the churche instructe and examine so many children of his parish sent unto him, as the time wil serve, and as he shal thinke conveniente, in some parte of this Cathechisme. And all fathers, mothers, maisters, and dames, shall cause theyr children, servountes, and prentises (whiche are not yet confirmed), to come to the churche at the daie appoynted, and obediently heare and be ordered by the curate, until suche time as they have learned all that is here appointed for them to learne.
In the 1552 BCP this was changed from once every six weeks to every week:
The Curate of every Parishe, or some other at his appoynctmente, shall diligently upon Sundaies, and holy doies halfe an hour before Evensong, openly in the Churche instruct and examine…
It stayed like this for the 1559 BCP. In the 1662 BCP the time of catechesis was moved to after the second reading:
The Curate of every Parish shall diligently upon Sundays and Holy-days, after the second Lesson at Evening Prayer, openly in the Church instruct and examine..
[That, of course, is a formulary (agreed practice) in the Anglican Church of Aotearoa, New Zealand and Polynesia (and I'm sure in many other parts of the Anglican Communion). It would be interesting to know how parishes are following this requirement of catechesis…]
This instruction was unchanged in the 1928 proposed BCP.
I am grateful to Fr Jared Cramer's post
image source
Similar Posts: