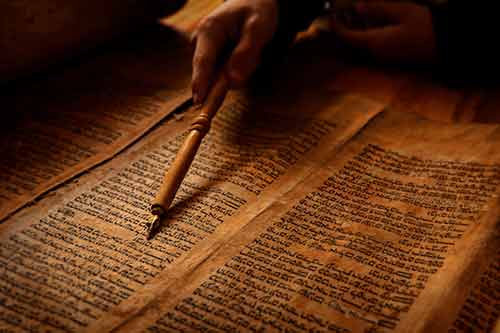 The Bible is not a book. It's an anthology. It binds together translations of ancient manuscripts from different authors, with many/most of the manuscripts individually having a complex development. And all covering, say, the period of a millenium. There's not even agreement what to bind in this anthology and what not to bind in it.
Sure, this collection is inspired and inspiring, but some people shift it from being a record of God's revelation, with a particular role in God's revelation, to actually being God's revelation. Full stop.
That doesn't mean they necessarily treat it more reverently, or live by it more fervently. Like people who are not married to an individual as much as they are married to the idea of being married, or who are not so much in love with the person they are in a relationship with but in love with being in a relationship. Just because people tout that they have what they might term a "high view of scripture" doesn't actually mean that the scriptures impact their lives more than those whom they would deprecate as having a "low view of scripture".
And then there are those who turn the Bible into a person. People say some turn Mary into the fourth Person in the Trinity, or the Pope into the fourth Person. But some appear to make the Bible the fourth Person in the Trinity.
The details need not concern us of Dr. Joel Willitts (Associate Professor in Biblical and Theological Studies at North Park University) coming out recently as an (don't worry if these terms mean little to you) "Egalitarian" from a "Complementarian" background [Yes, let's not get distracted that the only two questions asked him in his interview for this position were one on women and the other on homosexuality – clearly the two central issues in Christianity 🙁 ] What struck me in his second coming-out post was using such strong person language about the Bible:
…while the Bible is sufficient on the things it wishes to be, it is not on that which it does not intend to be. And what's more, the Bible is perspicuous on that which it means to be…
So there you have it. For some people the Bible wishes, intends, and means…
My response: I bet the Bible wishes it was clearer about its intentions…
During this Southern-Hemisphere, Aotearoa-New Zealand, go-slow season sometimes your comments may take longer than usual to get through moderation…
If you have not done so already, I encourage you to "like" the liturgy facebook page.
Similar Posts: