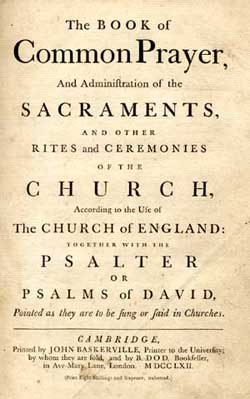 No sooner has the 400th anniversary of the King James Bible passed but we are in the 350th anniversary year of the 1662 Book of Common Prayer.
PDF Celebrating 350 years of the Book of Common Prayer
Obviously the 1662 version was not the first Book of Common Prayer, nor the last one. It is not infallible, nor inerrant. Some things are done better in earlier Prayer Books. Much is done better in later Prayer Books. Nonetheless, like the King James Bible, it sets a standard in its day which is the quality that we should be working at in our own time and context.
Just like clinging to the King James Bible in our own time is the very opposite of what those who worked on it four centuries ago would have intended and expected, so similarly clinging to the Book of Common Prayer 1662 in the twenty-first century would completely surprise those who worked so hard to provide a liturgy that spoke directly to the context of their time.
Nonetheless, some parts of the 1662 Book of Common Prayer have survived surprisingly well and continue into our present day in the same way as parts of the King James Bible have survived.
Principles undergirding the Book of Common Prayer, the centrality of the whole of the scriptures in prayer, the spiritual disciplines of the daily office and weekly Eucharist, the value of common prayer, the drawing on the liturgy of the early church, etc. continue, IMO, to be of deep value today – and we abandon these at our obvious cost. So let us commence this anniversary year allowing the spirit of this landmark book to continue to challenge us.
Similar Posts: