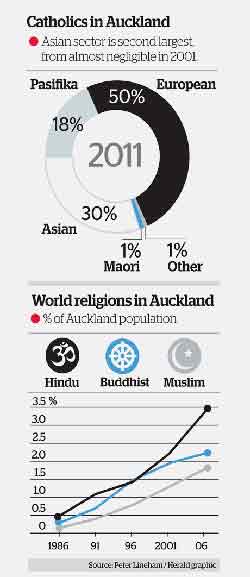 With much fanfare the New Zealand Herald announced Christian faiths losing out to other religions: "In the battle for believers, Christianity is losing out to religions such as Hinduism, Buddhism and Islam.
A Massey University study, Changing Patterns of Auckland Religion, has found that with the exception of Catholicism, membership of all mainstream Christian denominations has fallen to historic lows.
The Anglican Church, which has traditionally been New Zealand's dominant religion, has dropped from 47 per cent in Auckland identifying with the church in the 1926 census to slightly over 10 per cent in 2006, lower than the 10.8 per cent nationally. It was a different story for Hinduism, Buddhism and Islam, which have experienced surges in membership."
I do not have much confidence in NZ media, especially when it comes to understanding religion. My first degree is in Maths – as I read the article I am reminded that there are "Lies, damned lies, and statistics".
Let us put to one side the irritating journalism that this is a "battle for believers". The violent metaphor is grossly inappropriate. As is the presupposition that "believers" is a subset of humans in the same manner that, say, young women, or retired couples might be a particular niche market one might target. Spirituality, belief, is not a niche market activity. Spirituality, belief, is there for all! And religions and spiritualities are not merely interchangeable products directed at the (ever-shrinking-the-media-would-have-it) "religious" subset of humans!
The study is, in fact, not based on attendance and practice, but on the 2006 Census! It does not take a degree in journalism to realise that culture is changing. Those who did not practise a faith, in the past, for social reasons still would have identified with a faith tradition. Older people would put down CofE on the census even if it did not represent for them minimally "Christmas and Easter". Even if a church with this title does not exist in this country. That generation is dying, and being honest about one's non-practice is now de rigueur. Census figures are not an indication of attendance, and never have been. But little by little the census figures are trending towards an honest indication of practice.
My thanks to an Auckland friend who provided me with the actual Auckland Anglican diocesan attendance figures over the last decade. In fact, looking at attendance figures across the last decade, they have gone from 464,740 a year to 487,948. Another measure, total attendance in the month of June, has risen from 33,994 to 36,475.
Similar information is, interestingly, available from (the often-maligned) The Episcopal Church. Thirty three dioceses have shown growth. One church, St. Martin's, Houston, has an active congregational membership of 8,480.
Let me stress: numbers are not the goal. But I do think numbers are not unimportant. True – numbers are lessening and congregations are aging in places. Let's do such analysis carefully.
Let me also stress, once again, the point that Dr Peter Lineham makes: churches grow through "better marketing and online presence" and "ability to connect with the young". "What we are seeing is an increasing number of people who do their church shopping online, from home," he said.
H/T Peter Carrell
image source
Similar Posts: