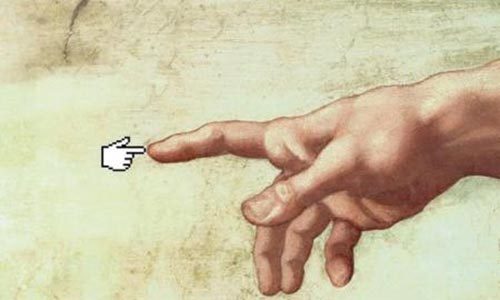 Our diocese has a new role – Archdeacon for Regeneration and Mission. Mark Chamberlain has taken on this ministry and, in his recent message to the diocese, Mark highlights the importance of our web presence and seeks ideas for what makes for a good website.
Not so long ago, I was not at home and wanted to go to Sunday church. I looked for information about the local Anglican Church online – I could find no information about service times. I found the church building – it had the service time and information (admittedly in Church-Speak) large on the outside notice board, but when I peered through the glass of the front door, I could make out an A3 typed notice with a different time, different service, and some local "church speak" that I couldn't work out whether this was the name of the person leading the service or an acronym for a group or locally-understood style of service.
I drove through to the next township. There, the Anglican Church had a poor-quality website (the main information was 5 months old), but at least it was a site. I drove to the church building to check that the site's time was accurate. It agreed with the sign outside. But when I peered through that front door, there was another paper notice (A4 this time), with the time crossed out, a new time added, and that they would meet on Sunday at [Denomination Name] church – but with no address.
I decided I would go to church in the larger, nearby city. The website of the main Anglican Church there had some information, and different information on their Facebook page – with two Facebook posts even disagreeing with each other. When I arrived there for the Sunday service, I found that the church building was closed, and no notice where they were meeting. Yes – I did actually find the place they were meeting, but it wasn't on the same property as the closed church building.
This was the story of me, a visitor committed to going to Sunday Eucharist if at all possible. What would it have been for someone with a sudden urge to go to church… or with a crisis, for which they thought church might be some help…
How can we make our web presence better? [In a planned future post, I'll write about how to make our presence on Google better].
I advocate that the first thing a visitor to your church website encounters focuses on… visitors.
In other words – regulars to your church can go beyond the opening page of your church website.
Your church website needs to work really well on a phone, a tablet, and also on a laptop and desktop screen.
Half of those who visit this Liturgy site do so from a mobile phone. You can check what percentage of visitors to your church website do so from a mobile phone. I posit that those who are travelling or on holiday looking to go to church – the majority of them will look for a church website using their phone. So your site needs to function really well on a phone.
So what does a visitor to your church need to know? What needs to be clearly on the first page a visitor to your site finds:
Address of where you meet – maybe with a clear map, and where to park if they come by car.
Time of your service. Maybe a simple calendar, so people can click & look ahead.
Maybe a simple description of your service – not patronising, but also not using church-speak ("BCP", "Prayer Book", "Eucharist", "Traditional", "1662",…)
Maybe a photo of the building and of the leadership, with names. More importantly: a photo of an ordinary service – giving a sense of the "dress code", ages, atmosphere… – not just a photo of the full church when the bishop visited 7 years ago…
Maybe a phone number
Who is welcome (don't put "everyone is welcome" and then not have a ramp; or not use any Te Reo; or have readings and hymns in gender-exclusive language; etc).
Assurance that the front page is up to date; if there's photos from the last exciting St Francis pet blessing day 7 years ago; and the main information is Christmas service times (yes – that is still the first information in many websites I see, now in May). Sure – deep down in your church website there may be outdated information (a tangled mess from previous years, even), but the front page, for visitors, must be up to date & clearly state: though there is historic information deeper in, this stuff you are reading now will assuredly get you to the correct service in the correct place at the correct time.
What else does a visitor want/need to know at first glance on your site…
If the church could be more autocratic, it could have had a website for the whole country, with parishes, schools, and other ministry units forming pages (and sub-pages) within that (those parishes, etc, keeping their own section up to date), all following a similar layout, all assuredly up to date.
But (surprise!) autocracy isn't flavour of the month in churches. So, here's a suggestion: the church has a national site – as described in the previous paragraph – and parishes, schools, and other ministry units can have pages (and sub-pages) FREE within that, all following a similar layout (churches LOVE free stuff!), with one requirement: everything must assuredly be up to date and complete.
Meanwhile, back in the real world: make sure your website has a simple-to-use system (WordPress, or less difficult). How often has a parishioner lovingly created a website and died, or moved on, or lost their faith, and no one else can access it! The vicar or parish priest must be able to change things quickly.
Related reflection beyond this site:
Five Reflections on Hybrid Church and Digital Ministry
Similar Posts: