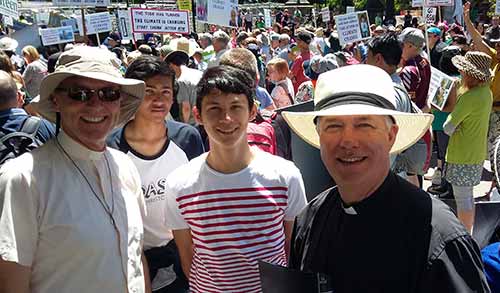 On Saturday I went to the climate action rally as part of those wanting to send a message to those in leadership and to the 2015 United Nations Climate Change Conference, being held in Paris from November 30 to December 11.
There was a reasonable turn out (estimate about 8,000). I saw five Anglican clergy in clerical collar, and a few other clergy there also, and a number of Anglican parishioners. The Quakers were very visible. As was the Green Party. It was good the Dean was one of the speakers. I was pleased to hear that the Bishop of Wellington spoke powerfully at their rally.
The previous Bishop of Christchurch, David Coles, was here. He moved a motion on climate change at our last diocesan synod which passed unanimously – acknowledging that the church has been negligent, and as well as having every ministry unit undertake study relating to climate change, we noted the landmark Encyclical of Pope Francis' "Laudato Si" (link here), and the Anglican Consultative Council 2015 text, The World is Our Host – a Call to Urgent Action for Climate Change.
Elsewhere, Archbishop Winston Halapua of Polynesia stresses business as usual will destroy all of us. Our bishops have issued a statement. And "To strive to safeguard the integrity of creation, and sustain and renew the life of the earth" was the fifth mark of mission added to the other four by the Anglican Consultative Council in 1990.
So we have a wealth of church statements. In the speeches, the Anglican Church was also singled out as a leader in divesting from fossil fuel investments.
I still think much, much more can be done. I still think that the church, Christians, can give the impression, to ourselves and to others, that our nearly-total focus is on saving souls, on the next life – not this one, this planet.
It was good to walk with Bishop David – 25 years after he ordained me deacon; which was not long after I was his lay chaplain at his ordination to the episcopate in a crowd that could not fit in our Cathedral in the Square.
As a liturgical postscript: before we walked, some chants were rehearsed. The leader would say a statement and we, the crowd, responded. Those church communities who do not use responses do not really understand how vibrant human gatherings work. Those church communities who use responses, but read them all from books or OHPs, do not really understand how vibrant human gatherings work.
Chapel for prayer here.
Creation-focused resources here.
If you appreciated this post, consider liking the liturgy facebook page, using the RSS feed, and/or signing up for a not-very-often email, …
Similar Posts: