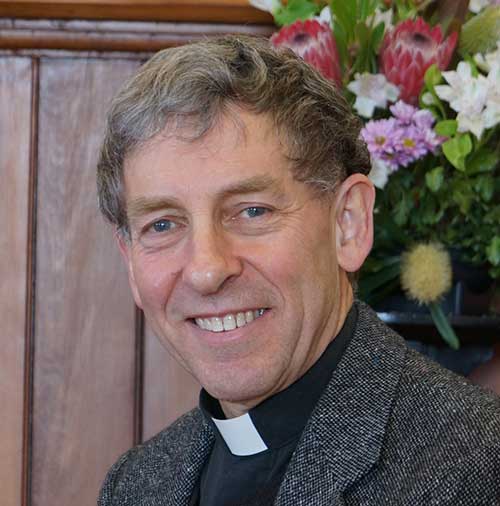 Fr Andrew Starky (Vicar of St Michael and All Angels, Christchurch) died suddenly on Holy Saturday. I had the sad privilege of speaking at his funeral yesterday. Many have asked for a copy of what I said, and ask that I put my words online here. Here is what I said:
Last Friday, Good Friday, Fr Andrew was standing here leading the Triduum services, the Holy Three days celebrating Jesus' death and resurrection. Like many of you, I was here. A week later, I stand shocked to have the sad honour of painting a picture of the Andrew we know – a priest, a companion, a friend.
I am helped in what, for me, feels distressing and daunting by knowing that you knew him too. And with Andrew there was no dissembling. Andrew was not different from one person to another – the Andrew you know and love is the Andrew I know. He was a man of total integrity. And when he spent any time with you, even if it was just the moment of greeting you at the church door – he was fully there with you, personally, individually.
Andrew was using as a sort of refrain during the Triduum -the words from the Maundy Thursday Gospel reading: "Having loved his own who were in the world, he loved them to the end." In many ways those words, that he kept repeating in what were to be the last hours of his own life, those words could be a summary of Fr Andrew's life: "his hour had come to depart from this world and go to the Father. Having loved his own who were in the world, he loved them to the end."
As most of you know, Andrew and Kathryn recently had a wonderful study leave, a sabbatical together. And as part of that they made a 30 day silent retreat following the Spiritual Exercises of Saint Ignatius Loyola. Andrew had made this retreat previously, and as I've also made this retreat, he and I spoke the same language from this.
The purpose of this retreat can be described as helping a person to be a closer companion of Jesus. Andrew was a companion of Jesus; is a companion of Jesus. And Andrew, as a companion of Jesus, was a companion with other companions of Jesus. First and foremost of those is Kathryn. They were, as Kathryn says, soul mates. His love for Kathryn and for Daniel was palpable. His devotion to his wider family, his friends, and to those for whom he was priest and pastor was unmistakable. "He loved them to the end."
His long list of roles in which he served as a priest is a veritable litany of caring: vicar, Archdeacon, Rural Ministry Enabler, Deputy Vicar General, Warden of the Community of the Sacred Name, member of Standing Committee, of CPT, of the Cathedral Chapter, and of General Synod. The Maori proverb is true of Fr Andrew: kua hinga te tōtara – a tōtara has fallen.
Andrew was my friend. And, as well as just spending time together when we could, as friends do, he and I also met regularly to talk through important things that were happening in our life and ministry. An Old Boy of Christ's College, he understood my role and the mission of that school, and was a preacher welcomed by the students.
The last time he and I met to share with each other important things that were happening in our life and ministry was Tuesday last week. I so appreciated his wisdom. And let me tell you, he was fair – but also very firm. If he gave advice, and I hadn't made a clear response, he would always return to it to make sure that I had taken his point on board and that I would act on it. He would do this, his head tilted, his hands gesturing animatedly, his eyes laughing, and usually with a chuckle.
That is the image I have of him – animated, gesturing, smiling, with a chuckle. And beneath that familiar chuckle, I know rested a deep joy. He was a big-picture person. I would check up on the many stresses and responsibilities he carried – and he certainly took care of the details – but he saw the bigger picture, he took the long-term view, he seemed to manage to save being stressed by understanding that all ultimately was held in the hands of God.
This meant that, like Jesus whose companion he was, Andrew was a party person. He enjoyed life. He came to the parties we organised, and he organised meals and parties, including the regular parish events and meals.
And Fr Andrew was inclusive. He was orthodox in his Christianity, and he was inclusive not in spite of his orthodoxy but because of his orthodoxy. He was truly catholic – catholic as universal – Andrew was universal in the way he welcomed and related to everyone – whatever your belief, position, personality, age, or understanding.
On Good Friday, Andrew used the ancient prayer, Soul of Christ, found at the start of the Spiritual Exercises of Saint Ignatius.
Andrew prayed aloud, and we all said Amen, to the prayer which concludes:
O Good Jesus,
In the hour of my death call me
That I may live with thee
That with thy Saints I may praise Thee
For all eternity
Amen
Andrew, my friend, for you that prayer has now been fulfilled.
*****
The media's report is here
Similar Posts: