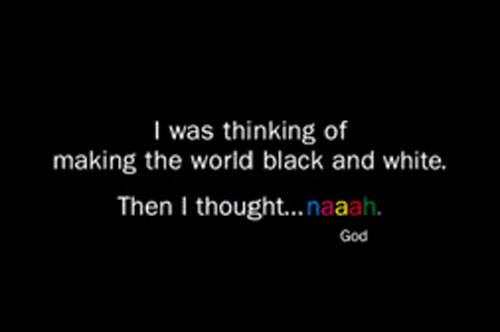 For some, the set of advertisements for God ("by God"?) may be well known.
God had an image problem. Could the ad agency help?

This was the challenge presented to the ad agency by a network of 150 Christian churches, a.k.a. the Love Singapore Movement. The goal: Have God reach out to people with a voice that's witty and affable. And do it in a country where there's a delicate racial and religious balance – where all religious activity is closely monitored by the government.

The Campaign:
24 print ads and 17 TV spots were created for the "God" campaign. And within 2 weeks, all were banned by the Singapore government. This led to a national Public Relations bonanza and a quick redirection of media efforts. The ad agency gave the voice of God to various magazines, banners, transit posters, shopping mall videowalls, T-shirts, giveaways and postcards. "SMS from God" was offered to cell phone users, and an unprecedented 1 in 4 signed up.

Recognized by both regional and international award shows, the "God" campaign achieved cult status overnight.
More here.
There are some in the series that will make good tweets:
Could you imagine the price of air if it were brought to you by another supplier. God.
What do I have to do to get your attention? Take out an ad in the paper? God.
When you're weary, feeling small. When tears are in your eyes, I'll dry them all. Simon & Garfunkel. Ditto. God.
If you miss the sunrise I made for you today, never mind. I'll make you another one tomorrow. God.
Don't forget your umbrella. I might water the plants today. God.
I think you're the most beautiful person in the world. Okay, so I'm biased. God.
If you think the Mona Lisa is stunning you should look at my masterpiece. In the mirror. God.
I hate rules. That's why I only made ten of them. God.
H/t twitter follower Bram Dijkstra
Similar Posts: