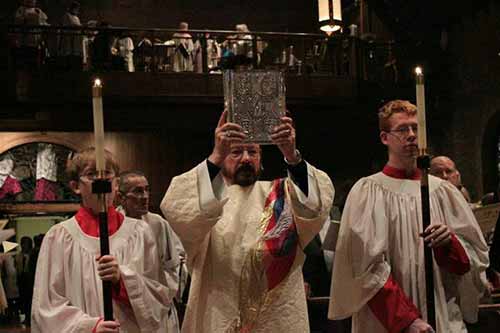 This blogpost is an invitation both to reflect on your community's proclamation of the Gospel reading in the Eucharist, and to share how you do this in the comments below so that others might benefit from insights gained from other practices.
In my book, Celebrating Eucharist, I write:
A "Gospel procession" may move to the lectern or to the midst of the congregation. The former practice emphasises the unity of the scriptures, the latter may emphasise the Gospel as the climax of the readings and the primary way in which Christ speaks to us. It is worth checking if the Gospel can be reasonably heard when it is read in the midst of the congregation, and also if most (particularly children) are able to see the reader. If this way of reading the Gospel is seen as the "solution" to a long, neogothic nave, this invites attention to how the other readings are proclaimed and may indicate the need to reorder the liturgical space.
What is the history of a Gospel procession into the nave? It seems to be more an Anglican/Episcopalian practice than, say, Roman Catholic. What other traditions use it?
Why do you do it? My recent post about having an ambo in the midst of the gathered community would alter such a practice.
How do you do it?
Who is involved?
The reputable Howard E. Galley in Ceremonies of the Eucharist: A guide to Celebration
writes:
The two lights carried at the gospel are both a token of joy and a symbol of Christ, the light of the world (John 8:12). The use of incense is also appropriate. The use of a processional cross at this point is not desirable. The original purpose of the lights was to accompany the gospel book, a purpose that is obscured when a cross is carried, since they appear to be accompanying it instead. A cross, moreover, tends to call attention away from the book.
Which direction does the Gospeler face (east or west) and why?
Similar Posts: