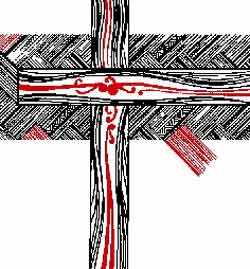 This is a post reflecting on communication within my church – specifically, could communication about General Synod Te Hinota Whanui (GSTHW) be improved? IMO Yes. A lot. And easily. And without expense.
[Update 22 August 2012: The print version of the quarterly provincial magazine Anglican Taonga is out, majoring on General Synod Te Hinota Whanui. There is no mention of liturgical decisions: the decision to not proceed with revising the Prayer Book which had first been attempted illegally; the decision that our processes have been ultra vires, and our canons unconstitutional; the decision that, even when we have an agreed formulary, we do not need to use it…]
I hope that those beyond Aotearoa, New Zealand and Polynesia can use this post as a jumping-off point for reflection on communication in your own context. If not – go for a walk, have a coffee, talk to a friend instead…
I challenged our church two years ago, before the last GSTHW, to put all the Inter Diocesan Conference (IDC – the Tikanga Pakeha, pre-GSTHW meeting) and GSTHW material online (reports, motions, bills, etc). This year Rev Peter Carrell issued his own challenge along with mine. There is absolutely no excuse for not putting this material online. They are produced digitally; put the PDF on a server; link – all in 7 minutes; done. [Peter Carrell shows how easy it is to do for someone who isn't even a member of GSTHW who gets hold of some of the motions that interest him].
This church was founded in the nineteenth century. It is time to stop being stuck in nineteenth-century ways of doing things and move into the twenty-first. There was acute international interest in some of the decisions before GSTHW and I received several messages from international organisations and individuals keen to know what was happening and confused that there was so little information forthcoming.
There is a closed facebook group Hinota Whanui with 219 members (you had to apply to the administrators to see the content.)
A small handful of members of GSTHW (including one bishop) were tweeting (hashtag #THW12) and facebooking. Some messages were followed by more-formal warnings that twitter and facebook are not official, and were not the last word – indicating the meager familiarity with these media. Of course twitter and facebook are not infallible! The reaction in the twitterverse to the warning was light-hearted banter about the inaccuracy of tweets describing refreshments etc. The reaction at GSTHW was more intense – with talk of the tyranny of facebook. Attempts to limit facebooking and tweeting were met with the acknowledgement that this is not possible under the Standing Orders. GSTHW is an open, public meeting – unless GSTHW goes into committee. Whenever GSTHW went into committee, there were no facebook updates or tweets originating from GSTHW.
In this information age, the appropriate response to information that is not fully accurate is not to muzzle social media, it is to present the correct information readily. Online. My original point.
Actually, the GSTHW-financed, hence palatable, news source (Taonga) has its own failings in accuracy. Just one example will suffice. There was considerable local and international interest in the motion whether a bishop could choose whoever they seek to ordain (irrespective of sexual orientation, etc.). One could be forgiven, reading the official Taonga account, for thinking that this amended motion was passed: "…This General Synod / Te Hinota Whanui affirms the long tradition and practice of Episcopal autonomy, within canonical limits, in the discernment of a person's call to ordination." That impression that Taonga gives is, in fact, false. The motion was not voted on by GSTHW.
Two-thirds of the motions before GSTHW did not get to be voted on. They ran out of time.
As well as all the reports, motions, and bills being online before IDC and GSTHW meeting, and systematic reporting during these meetings, the proceedings of IDC and GSTHW should be available in the nineteenth century form (printed book) and the twenty-first century form (online).
The issue is no longer whether to use web 2.0, the issue is now how it is used.
If the church wants to begin to engage with this millennium it needs to come to terms with the way people (rightly IMO) expect information in this age. At the moment there are only a small handful in our church blogging on web 2.0, but we express our opinions clearly understanding we are not infallible (LOL!) and not presenting our opinion to undermine God, Christ, or Church – but rather out of our love and commitment to these. When Peter Carrell disagrees with the GSTHW decision about St John's College he does so, not to be destructive in our church, but to open up dialogue. Recently, as regulars here know, I was having digital difficulties and asked parishes and others to consider placing a link to this site. One priest wrote to me "if we link to you there will be elders in this parish who will vomit bile" because of my "involvement in the demise of the Anglican Covenant". In my most self-conceited moments I would love to think some ideas on this site actually have a little influence, but I am sad that, rather than engaging with the ideas publicly on web 2.0, a parish stays in a previous paradigm about disagreement. It's so last millennium!
When Rev. Helen-Ann Hartley, Tikanga Pakeha Dean at St John's College, says GSTHW discussion might be enhanced by using the language of theology and the Bible a bit more, she is saying that to be constructive – not destructive. Rev. Sande Ramage, another Kiwi Anglican priest blogger, has opened up the discussion what it means to openly debate on web 2.0. She says, "For me to disagree with, or enter discussion on social media about something an authority figure in the church says is not, in my view, undermining them or any clergy collegiality but to be engaging in the marketplace of ideas. To be doing theology in the public square and being part of a necessary creative tension."
This post is the fourth in a series of posts reflecting on General Synod Te Hinota Whanui 2012 (GSTHW) of the Anglican Church in Aotearoa, New Zealand and Polynesia. It is written from the perspective of one not present at that meeting. In this post, looking at how the information came out of the meeting, that is a plus.
The first post looked at the attempted revision of A New Zealand Prayer Book He Karakia Mihinare o Aotearoa.
The second post looked at the making of a collection of rites, for the Lent and Easter Seasons, a formulary of our church.
The third post looked at strategic planning for theological education.
Update Information I was totally unaware of has now been provided thanks to Ven Canon Andrew Starky – one of the motions not considered was:
(a) Prior to each session of the Synod/Te Hinota the Clerk may make the Order Paper, Bills and Motions of which notice has been duly given, and Reports to the Synod/Te Hinota, available to the public by electronic or other means, Provided that material to be distributed to members of the Synod/Te Hinota prior to the session will not be made available to the public until a week after it has been sent to members, or it has been sent to members and less than a week remains until the Synod/Te Hinota will convene, and Provided further that the Clerk does not consider that such material should remain confidential until it has been considered by the Synod/Te Hinota.

(b) In order to give publicity to the proceedings of the Synod/Te Hinota, the Clerk may, unless otherwise ordered by the Synod/Te Hinota, make available to the public, by electronic or other means, any documents which have been laid before the Synod/Te Hinota, and all resolutions and other proceedings of the Synod/Te Hinota which are recorded in the Minutes.
Similar Posts: