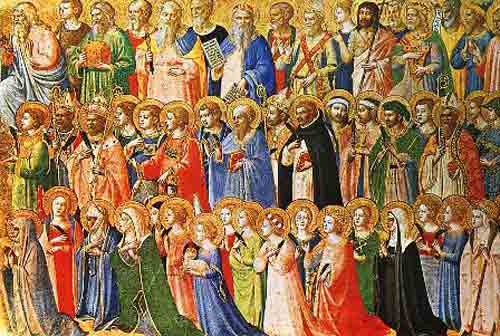 Halloween is a shortening of All Hallows Eve, the Eve of All Hallows, All Saints. Christians traditionally start celebrating a significant festival on the eve of the feast. A good example is Christmas Eve. All Saints is now often regarded as such an important feast that it is moved to Sunday so that it can be celebrated when most Christians gather together. This Sunday All Saints Sunday is also Halloween, the eve of All Saints.
Eastern churches celebrate All Saints on the first Sunday after Pentecost.
The first All Saints' Day occurred on May 13, 609 (C.E.) when Boniface IV, bishop of Rome, accepted the Pantheon as a gift from the Emperor Phocas. This became the Church of Santa Maria Rotonda, honouring the Blessed Virgin and all martyrs. In the time of Gregory III (731-741), this began to include all the saints and a chapel in St. Peter's church was so dedicated. Gregory IV further expanded this celebration in 837.
collect/opening prayer reflection All Saints Sunday October 31 and November 1

Obviously the collect is for the feast day – not for the week following, during which the collect for the Sunday this replaces is used
My reflection on All Saints – the Beatitudes
Please add your own ideas, resources, hymns, prayers, etc. in the comments section.
Similar Posts: