I keep stumbling over articles that are concerned that Christian congregational singing is at a low ebb (eg. here, here, and here).
Elements that keep coming up:
Concertisation of services. The congregation as spectators. Sanctuary has become a stage.
Professionalisation of the band. The band is less a music group with a ministry of encouraging and leading singing, and more a professional-like band producing music of such quality that mere mortals don't dare to spoil. For some people in the congregation lip syncing is in.
It is comparable to the Medieval period when those in the congregation were spectators of the professional choir of monks in the chancel.
The songs are not known. With the printing press, and improved general literacy, hymn books enabled all to sing with, say, a hundred or so well-known tunes. Overhead projectors at first merely replaced hymn books. Then there was a period when new songs were put up and introduced and taught before the service. Now, in many places, the pre-service song teaching has gone.
The music is too loud. Why sing when my singing does not "add" anything? When I cannot hear myself sing? When I cannot even hear if I am in tune? When I cannot hear my neighbour singing – so there is no sense of all doing this together?
According to these posts and articles, the loss of congregational singing is especially noticeable in the loss of men singing.
Another element mentioned is the insipid theology and cheesy lyrics. I shared this image on facebook: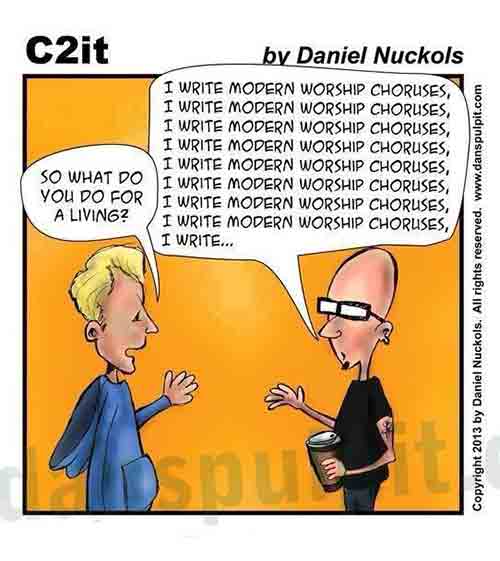 I loved the response:
Oh, come on guys; this is so inaccurate.
Let's at least acknowledge how they would REALLY sound:

Modern
Modern Worship
Modern Worship Choruses:
I write them,
I write only for You. x4

I bring my Modern Worship Choruses
Choruses, Choruses for You.
I bring my Modern Worship Choruses
Choruses, Choruses for You.
I bring my Modern Worship Choruses
Choruses, Choruses for You.

I adore – for You.
Not abhor – for You.
They're in store
For You. x2

For You
For You
For You
For You
Similar Posts: