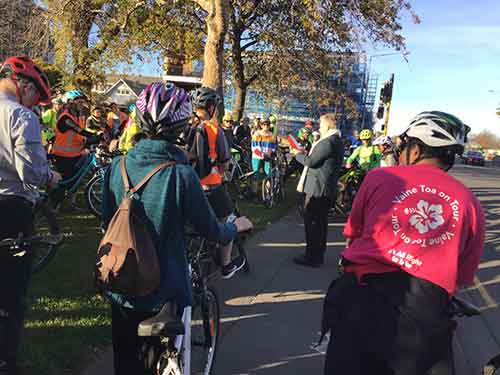 As the 200 cyclists gathered in Hagley Park [Christchurch, New Zealand] there was not a cloud in the sky.

The inaugural Interfaith Memorial Bike Ride was organised on Sunday to bring people together after the tragic mosque shootings on March 15 and there was an air of excitement as we waited in the autumn sunshine.

We met opposite Al Noor Mosque in Deans Ave and would cycle nearly 10km, visiting eight places of worship and hearing from the city's spiritual and religious leaders.

A Māori karakia was read by Katarina Te Maihāroa before Farid Ahmed expressed his thanks to the cyclists.

"Biking is a symbol of three things. One is courage, the second is hard work and the third is freedom," he said.

Ahmed, whose wife Husna was killed during the mosque attacks, led the first 100m of the Peace Train before waving-off the cyclists from his wheelchair.

The first stop was Fo Guang Shan Buddhist Temple in Harakeke St where Venerable Abbess Manshin told the crowd the importance of joy, deference and respect.

"My message to all of you today is we need to bring harmony and peace back to the city. We love our city, we love this land, we love Christchurch," she said.

The route then headed through Hagley Park before turning north to Christchurch Hare Krishna Centre in Bealey Ave.

The cyclists were greeted by Yamunacarya, who invited us to visit the temple and after a brief look at the statues and photos we were back on our bikes.

As we traversed the traffic most motorists were patient and courteous as the large group of cyclists crossed into Durham Street North.

The next stop was Canterbury Hebrew Congregation, the headquarters of Jewish religious and educational services in Christchurch before continuing to St Mary's Pro Cathedral in Manchester St.

We were met by Kathleen Gallagher, a member of Christchurch Catholic community, who said the cycle ride was a wonderful coming together of everybody.

From there we rode to Oxford Terrace Baptist Church where Minister Chris Chamberlain explained the history of the site, which was rebuilt after the February 2011 earthquake, before saying a prayer for the cyclists.

"The church has been in existence since 1863. The columns here give you a bit of a clue about what it used to look like – before [the quake]," he said.

At the Transitional Cathedral, Dean Lawrence Kimberley welcomed us on behalf of the Anglican community and again joined us in prayer.

"It's great to be able to celebrate our common humanity no matter what our faith might be," he said.

The last 2.5km took us to Linwood Islamic Centre in Linwood Ave where we parked our bikes, removed our shoes and took a seat inside the mosque.

Prayers were said before we were thanked and given much-needed bottles of water.

The sun still shone as we left.

The riders dispersed, the Peace Train had reached its destination.

Hundreds join interfaith bike tour of Christchurch prompted by terror attacks by Lee Kenny

Farid Ahmed will speak at Christ's College on Thursday, 13 June 2019, from 7:30pm – 9pm. You are welcome to come.
Peace Train, many will know, was sung by Yusuf Islam/Cat Stevens at the National Remembrance Service
Image source: Dean Lawrence Kimberley
If you appreciated this post, consider liking the liturgy facebook page, using the RSS feed, and/or signing up for a not-very-often email, …
Instagram's @liturgy is the new venture – if you are on Instagram, please follow @liturgy.
Similar Posts: