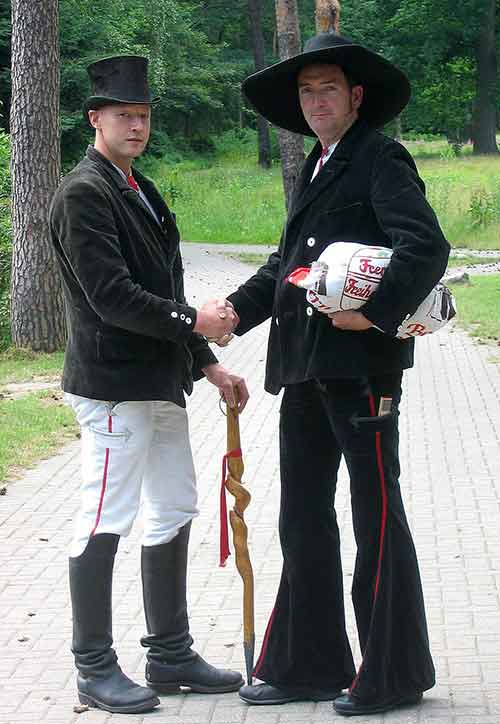 Recently I saw a couple of guys dressed in the manner of the above photo; later that day I saw two more, dressed similarly. The second time I stopped to chat with them.
They are Wandergesellen – "Journeymen". They practise their craft and wander – in this case, some of them have been helping with the rebuild of quake-damaged Christchurch, especially with skills in stone-masonry.
Normally, they travel for at least three years and a day – not returning home in that time. All they own, they carry with them, wrapped up.
They leave home with 5 Euro, and return with the same amount – they are not to squander money nor store up riches during the journey. The journey is the goal.
They often have a religious, faith, spirituality component to this medieval style of apprenticeship. The word journey comes from the French journée (day) – living day-to-day.
These journeyman years are referred to as auf der Walz sein. The Australian song "Waltzing Matilda" is based on the journeyman's "Walz".
The modern Gap year is a contemporary expression of this medieval tradition. I travelled the world for six years in my 20s. And, more recently, I walked the Camino (The tradition of having their Wanderbuch stamped is akin to the experience on the Camino). I find strong connections with the journey of faith and spirituality lived out by these hundreds of Wandergesellen.
Here is a good article off this site.
If you appreciated this post, do remember to like the liturgy facebook page, and sign up for a not-very-often email, …
Similar Posts: