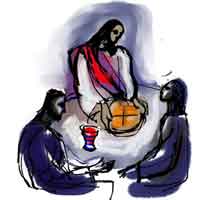 Cluttering liturgy is a common problem. We inherited a cluttered rite – and there is a human tendency to re-clutter as soon as clean lines and good flow are produced. Leaders add their favourite little prayers, and just another gesture, and just this other nice bit they saw so-and-so do; "may use" becomes "must use"…
Regular commenter Jesse is always worth a read (you all are, of course!). Recently he described a weekday Eucharist as he experiences it [I note it is a weekday Eucharist, hence two readings, rather than three-plus-psalm]:
Before the service: announcements by the coordinator that week; music director rehearses any unfamiliar or difficult music.

Silent reflection
Bell rung, all stand
Opening greeting (The Grace of our Lord…)
Opening hymn
Collect (intoned by presider)
Epistle, all sit
(one minute of silent reflection, begun and ended with a bell)
Responsorial Psalm (cantor with congregational refrain)
Gradual Hymn, all stand
Gospel Acclamation (cantor with congregational refrain, using one of four familiar Alleluias)
Gospel
Acclamation reprise
Homily, all sit
(one minute of silent reflection, begun and ended with a bell)
Prayers of the People (sung with familiar congregational response, all standing)
Exchange of Peace
Offertory hymn (preparation of the table, procession of bread and wine)
Prayer over the gifts (presider)
Eucharistic prayer (intoned in full by presider, both before and after the congregational Sanctus)
Lord's Prayer (sung by all to an invariable tune)
Fraction sentence and response
Song at breaking of the bread (one of five possibilities, all known by heart)
Reception of communion
All remain standing until all have received
Two minutes of silent reflection (begun and ended with a bell)
Post-communion Prayer (standing)
Dismissal
Lunch!
I add to this my suggestion of applying simplification principles in your own context (I do not think that cloning is the best way forward…) by having something like a card. This means a standard format, with seasonal variety.
Similar Posts: