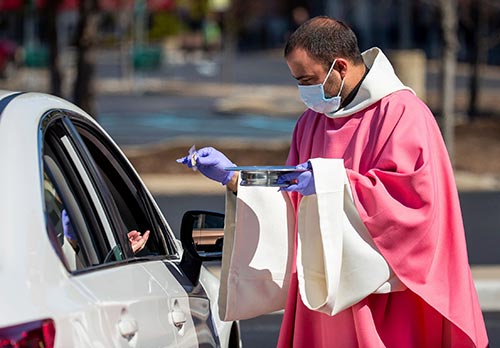 BREAKING:
A number of significant Christian leaders have decided that Easter Day this year may be delayed from 12 April to 10 May. By then, it is hoped, that public church services (IRL) will be possible in those regions where they are not currently allowed because of Covid-19 restrictions.

Pope Francis was contacted by the Archbishop of Canterbury who came up with the concept. Archbishop Justin Welby, at Lambeth Palace, began to think about alternatives when he realised that, because of the Covid-19 Lockdown, Church of England churches would not be able to celebrate the liturgies of Holy Week and Easter. He got in touch with Pope Francis in the first instance, and then the two of them had a Zoom meeting with The Rev. Dr Olav Fykse Tveit, the General Secretary of the World Council of Churches.
Roman Catholic understanding is that the Pope holds plenitudo potestatis ("fullness of power" to bind and loose, Matt 16:19) and through his proclamation, titled Stultus Aprilis, he is allowing individual national bishops conferences this year to retain Easter on 12 April or to move it to 10 May. Each national bishops conference will make this decision based on whether, in their jurisdiction, they can hold public Holy Week and Easter services. Technically, this unusual action, is termed a "dispensation of time".
In Anglican (Episcopalian) ecclesiology (church understanding and structure), there are forty independent provinces in the Anglican Communion in full union with the Archbishop of Canterbury. Archbishop Justin Welby explained that each province will need to follow its own canonical processes to make this decision. I am expecting that there will be an announcement after a Zoom meeting of our Standing Committee of General Synod Te Hinota Whanui (I serve as a priest in the Anglican Church in Aotearoa, New Zealand and Polynesia). Other denominations and Christian groups will follow their own processes to decide if they will join this moving of Easter or not. There is obviously some urgency to this decision making, but Zoom or other video conferencing systems are being used as never before, so this decision can be made speedily. The decision in your jurisdiction should be out later today (April 1).
Lent, for those following this revised scenario, will look like this:
5 April will use the readings (proper) for Lent 2 but not repeating this year's readings, rather they will be last year's (Year C in the Three Year Cycle) – Lent 1 is not repeated, so as to not repeat the Gospel story we have already had of Jesus fasting in the desert (and not to stress the 40 days – which now no longer applies; see below)
12 April Lent 3 Year C
19 April Lent 4 Year C
26 April Lent 5 Year C
3 May Palm Sunday, back to this year's cycle, Year A
10 May Easter Day (Year A)
Foundational to how Easter is calculated is the decision at the Council of Nicaea (in 325 AD) that Easter is to be on the first Sunday after the first Full Moon occurring on or after the Vernal (Spring) Equinox. Northern Hemisphere Vernal Equinox is when the Sun directly crosses the Celestial Equator going north (about March 20 or 21). Of those three aspects (Sunday; Full Moon; Equinox), the dispensation for this year (and this year only, in these unprecedented times) is the removal of the Equinox aspect – so Sunday, 10 May, is the first Sunday after the next Full Moon.
Orthodox Churches have been approached, but they are not interested in participating in this option of moving Easter. Orthodox Easter is usually on a different date than Western Easter because of calendar differences between East and West. Orthodox Easter, this year, will continue to be on Sunday, 19 April – which already differed from Western Easter. So, to clarify, there will be some Western Christians who will celebrate Easter on 10 April (with Holy Week beginning 3 April); Eastern Orthodox Christians will celebrate Easter 19 April; and some Christians will hopefully by then be out of Covid-19 Lockdown and celebrate Easter on 10 May.
Obviously this approach (of extending Lent and moving Easter) is a more scientifically responsible one than some who are ignoring restrictions and saying "true" Christians will not be infected by Covid-19 (see, for example here and here). It is also more realistic than those leaders who are saying we will be through this crisis and back to normal by Easter Day (10 April). The 40 days of Lent do not include the Sundays; extending Lent by these four weeks (4×6, excluding Sundays) adds 24 more days (excluding Sundays) to Lent. Fascinatingly, just as 40 holds rich symbolism, this new length, 64 = 8 squared (8×8) can also be understood as symbolic. Eight, in Christian understanding, is the number of resurrection, of new life. These extra days mean we are heading to new, resurrection life – squared, in fact.
Lastly, to be clear, while there will be two different dates for Easter (three, counting Orthodox Easter) there will not be two dates for the Day of Pentecost. Those who will celebrate Easter on 10 May, will use the readings (proper) for the Second Sunday of Easter (Year A) on 17 May, and the Third Sunday of Easter on 24 May. Then all Western Christians celebrate the Day of Pentecost on 31 May.
image source: Associated Press
Similar Posts: