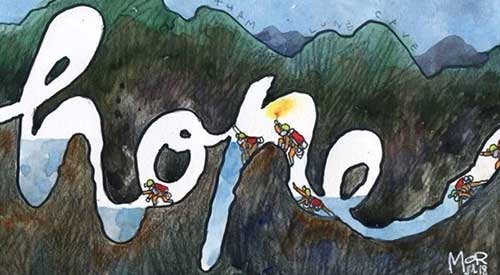 It felt like the whole world, whatever our differences, has been united around our shared hope that the children and their coach be rescued.
I call the source of the shared unity, that shared energy, "God". You use whatever term you feel more comfortable with.
17 days.
Mission impossible.
I was certainly conscious of them constantly – praying for them; waking in the middle of each night, checking the numbers out, praying, conscious of others praying – however you think intercession works, however you think God works…
There was the waiting for news before they were found – as the story began to increase in profile.
There was the first encounter – so seemingly understated – with boys as young as 11 who had been there for ten days, in the dark, with no idea if anyone was even coming.
There is the shock of Saman Kunan's death, a volunteer, diving to lay oxygen tanks and running out himself.
There is the bravery of all involved, and the endless volunteers for all the necessary tasks from the most mundane to the most complex.
There is the international cooperation; the various languages.
The leadership of the divers, and of the whole operation in such a humble, never a "look at me" way, all the way to Chiang Rai province's acting governor, Narongsak Osatanakorn.
There is the amazing group of parents.
There is the creation of an agreed plan.
There is the actual grueling, terrifying physicality involved, squeezing through a flooded 37 cm (14.5 inches) gap where you have to bend and turn and divers have to take off their own tank.
It intrigued me how our media in New Zealand responded – on TV and Radio, presenters regularly spoke of "crossing their fingers", "crossing everything", but I did not hear any mention of God or prayer. In our country, crossing one's fingers is clearly more scientific, more 21st Century, than God or prayer.
Then there were the stories of the coach having spent a decade in a Buddhist monastery, and the understanding that this gave him the resources to help the boys in a culture where spirituality and meditation are ubiquitous. Certainly, the first images were of young people peaceful.
The value of each human life has been dramatically illustrated. May this realisation enable us, motivate us to put shared energy into other situations, less dramatic it may seem, where we can save and enhance a life.
The words of John Volanthen, the lead diver who was one of the two to finally discover them alive: "I dive for passion and always wondered if it would have purpose. Last two weeks was what I prepared for my entire life."
How refreshing to have some great news dominating our media.
Please share the positive things you learnt over these weeks following this story.
If you appreciated this post, do remember to like the liturgy facebook page, use the RSS feed, and sign up for a not-very-often email, …
Similar Posts: