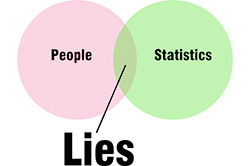 New Zealand has just undertaken our national census. This includes information about what spiritual tradition people identify with – that information does not question if or how they practise that identification.
There is also, now, the announcement that MissionKoru is undertaking a New Zealand church census.
The government census was able to be completed either on paper or online. Suddenly, a new set of statistics will become available – possibly correlating age and preference for online; possibly correlating spiritual identification, age, and preference for online or paper…
Lies, damned lies, and statistics.
I have mentioned here previously our care in the Anglican Church not to have national statistics. We have no idea of national Anglican Church attendance, baptism rates, clergy ages, clergy training and qualification, age distribution of church attendees, etc…
I've also mentioned here before, if your community increases about 4-5% a year, it doubles in size every 15 years or so. Similarly, of course, if it decreases about 4 or so percent a year, it halves every 15 years. The impression I have had, the feel I get in conversations, is that attendance has about halved in the last 15 years. I picked up our diocesan statistics books – and that proves about right.
The feel I have also had is that, because of endowments, investments, and even some increased giving, the number of paid clergy has not altered significantly in the last 15 years. Again, the statistics books confirm that sense to be correct.
[Let's skip right over our diocese publishing with a straight face that one small parish (49 attending at Christmas) is given as having 160 worshipping congregations meeting at the church building, and 174 worshipping congregations gathering elsewhere! and move right on to…]
How to make the numbers look better
Our statistics give total attendance rather than discrete individuals attending. Say six or seven of you meet daily for prayer in your parish (the Vicar, spouse, retired priest, and three or so others): 7×7 = 49 weekly attendance already. Get a dozen or so to Sunday's 8am and another 40 to your 10am service and your parish ends up ranking in the top third of our diocesan attendance statistics. My point: there is no way we can tell from diocesan statistics how many individuals are actually involved in a community's worship.
Do numbers matter?
Well – no and yes. No – is obvious. Yes – but they might be the wrong numbers we are looking at. While we keep no statistics of individuals attending worship, possibly another significant statistic we do not keep is, how many people is the worshipping community serving?
In a group discussion I once heard a vicar excuse the paucity of is congregational numbers because "there's so few people living in the area". Well I've walked and driven within his parish – there is high density housing, a very popular secondary school, families, and student flats…
There are three degrees of falsehood: the first is a fib, the second is a lie, and then come statistics.
Over the 15 years I mentioned, then, the ratio of worshipper to employed clergy has approximately halved. 20, 30, up to 50 worshippers per employed person in a community is not an unusually low ratio now.
With that ratio halved, with decreasing numbers of baptisms, funerals, weddings, and the preparation for such events, are clergy using extra time for increased visiting? Networking the needs of those outside the church community? More time for prayer? More erudite, insightful clergy because of greater time for study – deeper exegesis in original languages, sermons that people flock to, services that attract? Training, forming, and motivating more effective laity? Engaging people in the new land of the internet?…
I think the Anglican Church in this country is actually quite small. I'd hazard a guess that we should be very pleased if even one percent of our population was in our churches last Sunday. Do numbers matter? I think we like to give the impression that we are big and very significant. A sort of institutional equivalent to putting on copes and big hats. This results in our being top heavy with lots of titles and office-holders and assistance and support for those top positions. But what if we acknowledged our smallness? Embraced it? Rejoiced in it? Made it a feature – rather than pretending that our massive buildings reflect our community's size…? Some of them were never regularly full even in our imagined halcyon past…
It would not surprise me if the Roman Catholic Church in New Zealand is three or even four times Anglican size when it comes to attendees…
The articles around this topic are (sanguinely) suggesting "that about 20 percent of New Zealand's total population attend a church at least monthly". I am going to need a lot of convincing that the numbers are anything like so high. My suspicion is that this is about twice as high as is actually the case.
But of course I could be wrong…
So I look forward to those statistics…
If you appreciated this post, there are different ways to keep in touch with the community around this website: like the facebook page, follow twitter, use the RSS feed,…
Similar Posts: