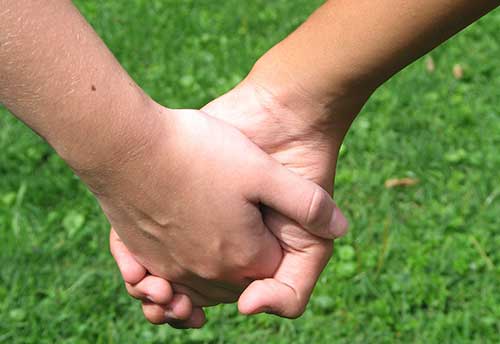 I still hear people (all the way to bishops) use the word "vocation" as shorthand for a call to priesthood (or possibly "Religious Life"). Marriage is a vocation. [For some, singleness is a vocation; for some celibacy; for many, I hope that their job is a vocation…]
How much energy does the church put into the vocation of marriage? How much formation is there for Christian Marriage in your community [and you can ask the same questions about other ways of living that God calls us to…]
My friend, Fr Robin Koning SJ, recently put one of his sermons on marriage publicly online. The whole is worth a read. Just some extracts:
It's easy, even for Catholic people, to think of Christian marriage as something that is simply natural, something most people will choose, the usual pattern of human life. Other commitments, like the commitment to lifetime celibacy for priests, sisters and brothers, is something special, something that involves a call, a vocation, a special intervention of God into the normal pattern of things. Hence, I often get the question of how it was that I sensed that call, how did I discern it, how did God speak to me so that I ended up feeling it was my vocation to be a Jesuit and a priest. Now, if I turned that question back on many married Catholics – if I asked them how they sensed that marrying was their call, how they discerned it, how God spoke to them so that they sensed it was their vocation to be married to this person – I would often get a blank look. They would say, well, we met, we fell in love, we felt this love would last, that it was the marrying sort of love, and so we did what everyone naturally does if they can -we got married.

And yet, for the Church, marriage too is a vocation, a calling, something which has a rich meaning in the life of the Church, in its service of God and its care for the world….

This new covenant, of course, is the covenant initiated when God became flesh in Jesus Christ. God enters into a fleshly union with humanity. God, who is love and who has loved us from the beginning of creation, now embodies that love in the humanity of Jesus. He expresses his love in ways we can see and hear and feel and touch – in the hand stretched out to lepers, in the gracious words from his lips, in the washing of our feet, in the bleeding, broken body on the cross. This embodied love of God for us in Jesus is what Christian marriage symbolizes…

Christ is saying to us: "This love of Jean and Marcus for each other is an image – the strongest possible image in the world I've created – of my love for my people. If you want to know how intimately and passionately I love my Church, my Body, look at how intimately and passionately Marcus and Jean love each other as they make this life long commitment today."…

I pray that day by day, you will know your need for the power of God's Spirit in this marriage. That day by day you will embrace this marriage, not as your own creation, but as given to you by the Creator of all good gifts. That day by day, you will bring your vulnerability to each other and to the Lord, so as to deepen your intimacy with each other and with the Lord. That day by day you will surrender yourselves and each other and your marriage into the hands of Christ, who did not cling to equality with God (Phil 2:6), to his strength and power, but surrendered himself into our hands to hang broken and vulnerable on a cross, touching our vulnerability and making possible genuine intimacy with God. And making possible that graced intimacy with one another which you now pledge.
Similar Posts: