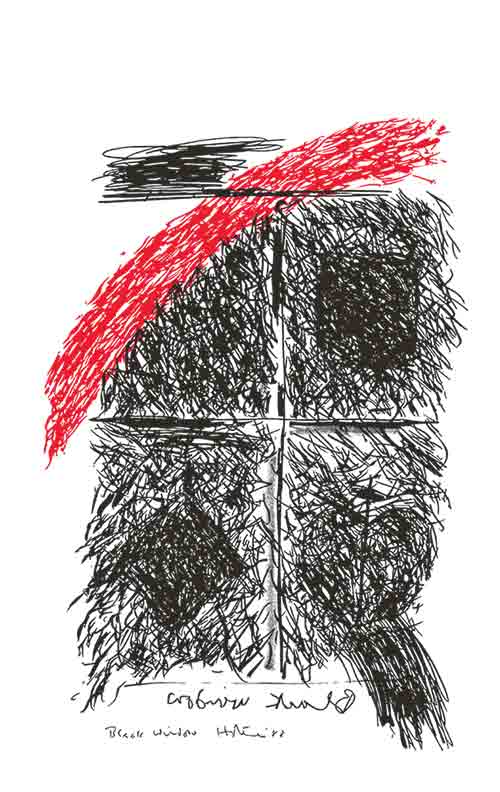 The Christchurch Art Gallery Te Puna o Waiwhetū currently (27 March – 25 July 2021) has an exhibition: Ralph Hotere: Ātete (to resist). This stunning, unmissable exhibition celebrates the artistic vision of one of Aotearoa New Zealand's most significant artists. It is wonderful that one of his works of art is in A New Zealand Prayer Book He Karakia Mihinare o Aotearoa (above).
Understanding his deep Christian faith is a key into his art. One encounters the 14 Stations of the Cross, the number 7 recurring regularly, sacred images, and quotes from Christian texts.
His Catholic upbringing and Māori heritage underpinned much of his work, which frequently protested against injustice, war, human rights violations, colonisation, and industrial and environmental catastrophe. Art historian Jonathan Mane-Wheoki placed him 'at the forefront of mainstream New Zealand art history. But in a sense he also stands outside of it, both as a Māori and as one of the most cosmopolitan, sophisticated, international artists New Zealand has yet produced.'

Story: Hotere, Hone Papita Raukura (Ralph)
This quoted biography goes on to explain that he was named Hone Papita Raukura after Jean Baptiste François Pompallier, the French bishop who established the first New Zealand Catholic mission in the Hokianga in 1838. He was raised in a close Māori Catholic family in his home community of Mitimiti.
Tahu Potiki wrote about his Requiem Mass at St Joseph's Catholic Cathedral (Dunedin, 28 February 2013):
Although much of his work contains a religious element, I had no idea how deeply he held the Catholic faith…

His real name is Hone Papita, which is a translation of John Baptiste, and he was named after Jean Baptiste Pompallier. This is, of course, the Bishop Pompallier who was basically the first Catholic missionary to set foot in New Zealand and became the first Catholic Bishop of Auckland.

His presence in Northland from 1838 onwards meant that several of the Maori villages of the far north took on the Catholic faith. Mitimiti was one of those villages. I had intended to visit the village when we were on holiday in the Hokianga simply because I knew of it from Ralph's work but what I know now is that the village is also full of religious symbolism. The graveyard is called Hione or Zion and the church is Hato Hemi or St James. These stand alongside a traditional marae and perhaps give an insight into the way that Ralph perceived the world.

Certainly the Roman Catholic service conducted for Ralph was highly ritualised and full of symbolism itself. Most of us present were not Catholic but the religious proceedings were clearly requested by Ralph before he passed away.

During the eulogies he was described more than once as being his own man and being a man of integrity who used his talents to fight issues of racism, inequality and threats to the environment.

Quite possibly, the church has played its part in cementing his convictions about doing the right thing.

Tahu Potiki
The works of Ralph Hotere are powerful in themselves. Knowing about and understanding the Christian and Catholic undergirding of the art and artist deepens the experience and the challenges. If you are able to get to the exhibition, don't miss it. If not, do explore his art in other ways.
Similar Posts: