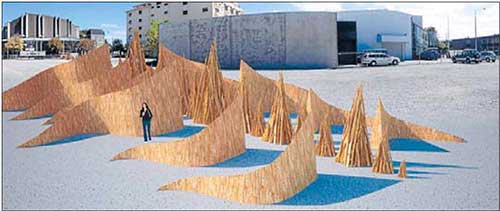 Humans have a thirst for symbols, a requirement for ritual, a longing for liturgy. Those who cannot acknowledge that will make no sense of the $60,000 sculpture project launched in Christchurch:
A large $60,000 sculpture will be built over the next three months on a central Christchurch site left empty by the earthquakes, but it will be burnt just two weeks after it is completed.

The sculpture, made of timber recycled from demolition sites, will be 40 metres long, 25m wide and over 6m high when it is completed in June on the former site of the Convention Centre on Kilmore St.

Once completed, people will be encouraged to pin photographs or write messages on the sculpture relating to things they want to let go of. At the end of the two weeks, the sculpture will be moved to a field on the Canterbury Plains and burnt to the ground.
The sculpture is associated with solstice (yes, the Press is confused about solstice). There is a connection made with the Burning Man festival.
The church is given great symbols and rituals, around birth, and sex, and leadership, and initiation, and death, and seasons, etc. with water, and food, and wine, and oil, and touch – that go to the very heart of being human. Yet we so often attenuate the symbol and debilitate its efficacy. We use minimal water – and wipe it off as soon as possible. We talk, and talk, and talk, and talk – either swamping the symbol in our verbosity, or extinguishing any potency left in the symbol by our incessant, rationalistic chattering explanations and interpretations.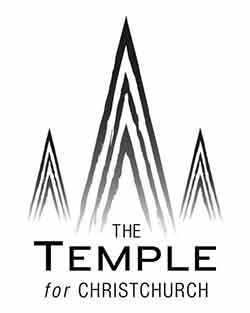 In a country that many claim is one of the most "secular" in the world, we are constantly soaked in religious language and images. Spirituality and what it means to be human is as alive here as anywhere. The church's growing disconnect with this has led to its displacement by blessing rites, tapu lifting, karakia, and "god boxes" as mainstream in our culture. It should not surprise those of us still in touch with the yearnings of ordinary Kiwis that the sculpture is called The Temple for Christchurch (note the unapologetic use of the definite article).
The Temple will be a key part of creating a healthier, happier and stronger Christchurch.
It also does not surprise me that the job description for the Director has echoes of how I understand the vocation of priest – and, really, of Christians generally.
Have you watched my thoughts on liturgy clearly connected with this reflection? [You can embed it on your own, or your community's website. You can make it the basis for discussion – and hopefully some change]
Similar Posts: