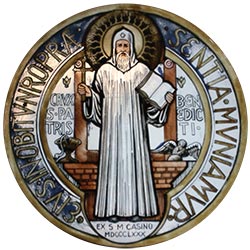 Today, July 11, is the feast of St Benedict (480 – 547).
Benedict describes a "middle way", via media, bringing together positive ends – not either/or, but both/and. Community and solitude. Prayer and work. And so forth. He has a stress on the daily office, and on reading the scriptures in such a way as to hear what the Spirit is saying to us through them (lectio divina).
Anglicanism/Episcopalianism is a denomination that can be seen as strongly "Benedictine" – probably because England had such a strong Benedictine presence. It regularly is seen as a via media – not a half-way-between, but a both/and denomination (a platypus which some struggle to understand – just as many did not believe the platypus, when discovered, was a real animal). Every Book of Common Prayer and its many contemporary revisions give significance to the daily office – a tradition not just understood as being the preserve of clergy, monks, and nuns, but of the whole people of God. Anglican church buildings regularly are laid out in Benedictine fashion, with choir stalls as in a monastery.
Many saints are known for the events of their life. Much of Benedict's life comes to us through legends. He does give us his Rule for a Christian community of monks. The Rule is followed by "Benedictines", Cistercians, and many others. It is followed by many in adaptation in ordinary daily life beyond cloister walls. I am an Associate of Kopua monastery, the Cistercian monastery in New Zealand.
image: Obverse, Saint Benedict Medal
Similar Posts: