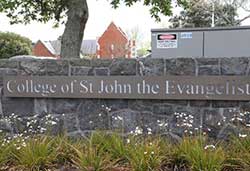 Our national Anglican seminary in Auckland (Aotearoa New Zealand) is advertising for the position of Principal/Manukura.
It is extremely noticeable that neither in the seminary's mission statement (below), nor in the particulars of the position, is there any mention of training and forming people for ordination. Astonishing! [That in spite of St John's College Trust Deed obviously explicitly and centrally talking about training people for ordination.]
Having been appalled at the Inter Diocesan Conference (IDC) reception of the the Tikanga Pakeha strategic plan for theological education, maybe I should not be surprised/distressed!
Te Kotahiitanga, as Board of Governors of the College of St John the Evangelist, invites expressions of interest for the role of:   

PRINCIPAL/MANUKURA

ST JOHN'S VISION/HE KITENGA ROA

The College of St John the Evangelist has a vision of loving service, unity and reconciliation in Christ such that:

We are entrusted with the theological educational task of preparing students to be sent out from the college, confidently equipped to be as sacrificial, transformative, just, healing and reconciling agents, as servants of God revealed in Christ
We are able to give full expression to the diversity, gifts and treasures of the three Tikanga by our unity in Christ
We live our lives in loving service to God's people and God's world. Our life and our formation at St John's College and beyond always strives towards this purpose
We seek to fulfil this vision as a Christian community that takes seriously our reconciliation in Christ
We acknowledge that we undertake this journey in deep thanksgiving for the legacy of Selwyn and all our faithful forebears

ST JOHN'S MISSION/TE MAHI HIKOI

The College of St John the Evangelist, in response to the saving act of Christ, and in recognition of the five marks of mission, exists to provide excellence in bicultural, three Tikanga, theological education for the mission and ministry of the Church in Aotearoa New Zealand, Polynesia and the world.

Te Kotahitanga (the Board of Governors of the College) wishes to appoint a person as Principal/Manukura of the College of St John the Evangelist. The position requires excellence in executive management skills, and a proven ability to provide leadership in a theological academic world, with a minimum of a preferred PhD or Doctorate in Ministry in areas relevant to the theology and management of a theological college.

The person will be expected to provide leadership, relationship management and strategic support and direction in the provision of quality academic programmes within the College of St John the Evangelist. This role is charged with driving the mission of St John's by providing inspirational managerial and operational leadership, clear academic direction and skilful implementation of the strategic requirements of Te Kotahitanga. The position has a mandate for change with full delegated authority from Te Kotahitanga to develop and implement policy, make rules and regulations and facilitate the development and implementation of the academic curriculum. The role requires committed leadership, within the context of bicultural, three Tikanga relationships, and is responsible for management of the day to day operations of the College, pastoral and spiritual care of students through the  Deans  and staff and close liaison and consultation with Te Kotahitanga and other important stakeholders.

The level of appointment will depend on qualifications and experience.

You must be eligible to work in NZ to be considered for this position.

For a copy of the Job Description please contact the Te Kotahitanga Executive Officer, Ms Paula Jakeman

(09) 528 7086 or executiveofficer@ang.org.nz

Closing Date: 2 November, 2012, 5.00 pm

Applications to be forwarded to the Te Kotahitanga Executive Officer – Ms Paula Jakeman

PO Box 87-188 Meadowbank, Auckland 1742
ps. it has been pointed out to me that in the "Vacancies newsletter from the Diocese of Christchurch" (PDF) this position is classified under "Lay Ministry Vacancies" and is not regarded as part of "Clergy Vacancies" (see pages 4-5 of the linked PDF).
H/T to Rev Dr Peter Carrell who has a further reflection on this position here.
Similar Posts: