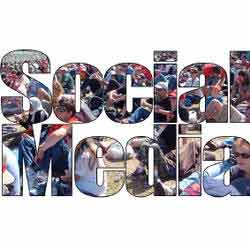 This is an article, by Fiona Summerfield, just published in our diocesan magazine:
"These days if you are not on Facebook, you aren't really human", teased a preacher at a church I recently visited.

In contrast seven years ago, when I first joined an online forum community and members talked about IRL (In Real Life), their online interactions were seen as something different. Today it is expected you will be connected with others online.

Spanky Moore, the Diocesan Young Adults Ministry Developer, says he almost exclusively uses Facebook for young adult programmes and events in the Diocese. "Facebook is the norm now, it is beyond a flash in the pan trend. It's normality for a whole lot of people, and not just young people", he says.

The big advantage for him is "the Diocese is made up of separate church communities and Facebook allows the crossover through a network of relationships to spread ideas quickly. I may send out two hundred invites to an event, and very quickly as the information is passed on between friends, the invite spreads to four hundred people".

He finds Facebook is great for sharing information: "You can be arranging an event, everyone can see the conversation, and you can add new people in. It is a really helpful way to manage".

One of the issues with Facebook is the tension between being public and private. Spanky says he has purposely chosen a large friend base because it helps his style of work, and he thinks carefully before he posts his own comments to his Facebook profile.

He says it is also great to see the feedback after an event: "People will tag a Society of Salt and Light event in a comment they make on Facebook. It becomes a conversation starter". He also points out that public critique is part of Facebook and you have to accept that if you use it: "Facebook is two-way communication, but to not be in that conversation is a bad thing".

The Rev'd Bosco Peters, Chaplain at Christ's College and one of New Zealand's most followed Twitter users (75,000 followers!), agrees: "I think there should be Christians active in mission and ministry in the digital world. This is where so many people now live. What does it mean if Christians have no active presence where people are?"

When asked about whether the Twitter community he engages with is different to real life, he is adamant: "I don't understand 'different to real life'? Twitter, Facebook, cellphones…they are part of people's 'real life'. Is going to church, the Body of Christ, similarly regarded as 'different to real life'?

"Those who follow me know I am a priest. My username is 'Liturgy'. I tweet primarily about liturgy, worship, and spirituality. The fact that my profile is above that of New Zealand sports people, celebrities, or politicians shows the hunger for spirituality and worship.

"I am clearly one of cyberspace's clergy. People will turn to me for advice, not just for worship and spirituality, but with highly personal and pastoral issues."

One example of how Bosco's Twitter presence was important occurred after the February quake. Bosco remembers: "There was huge concern internationally when my updates stopped after the February quake. I finally managed to bike to Riccarton Mall and get word out. For many people I became a face that made the Canterbury quakes real. I realised my responsibility to keep people informed about how things were going here: there was a network, a community of prayer, concern, and support. That included requests about where to send money to be of most help, and what else people could do.

"Twitter is not about spamming people with trivia—it is about engaging with people."

A generation ago freedom was owning a car to go and visit whoever you pleased. Today freedom lies in having access to the internet and the communities it connects.
SocialMedia 114.38 kB
Similar Posts: