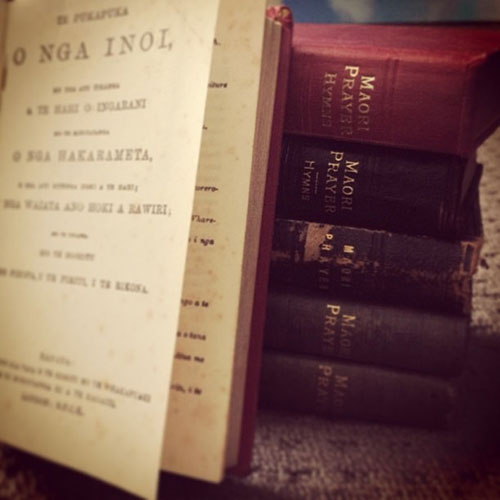 On Sunday, in Aotearoa New Zealand, Anglicanism celebrates Te Pouhere Sunday. Te Pouhere is the Maori title of our Church's revised constitution, and this is the day on which this Church celebrates it's Constitution / Te Pouhere which established the three Tikanga (cultural streams) of this Church. We celebrate our life as a three-Tikanga Church: Maori, Pakeha, and Pasefika in this Anglican Church in Aotearoa, New Zealand and Polynesia.
This is an appropriate moment to reflect on the place of Te Rāwiri. Rāwiri refers to David and the Psalter. This title came to refer to the Maori version of the Book of Common Prayer 1662. In this reflection, I am heavily indebted to discussions with my friend, Ben Ong.
In the Church's Constitution, it states at Part B 1
E pupuri ana e u ana tenei Hahi ki te Whakapono me nga Hakarameta a te Karaiti pera i ta te Atua i whakahau ai i roto i te Karaipiture, a pera ano hoki i tana i whakamarama ai i roto i
Te Pukapuka o Nga Inoi 1662
Te Rawiri
Te Tikanga mo te Momotu i te Pīhopa, i te Pirihi, i te Rikona
Nga Whakarohe toru tekau ma iwa
He Karakia Mihinare o Aotearoa.

This Church holds and maintains the Doctrine and Sacraments of Christ as the Lord has commanded in Holy Scripture and as explained in
The Book of Common Prayer 1662
Te Rawiri
The Form and Manner of Making, Ordaining, and Consecrating Bishops, Priests and Deacons
The Thirty Nine Articles of Religion
A New Zealand Prayer Book – He Karakia Mihinare o Aotearoa.
I have pointed out previously, there is no clarity about what is meant here by "A New Zealand Prayer Book – He Karakia Mihinare o Aotearoa" (does this refer to a particular edition of a physical book, or the varying, online edition with its acknowledged errors, or to all services authorised by General Synod Te Hinota Whanui since BCP1662?). Is there clarity about what Te Rāwiri refers to?
Several editions of Te Rāwiri are readily available online: Te Pukapuka o Nga Inoi – The Book of Common Prayer in Maori
The 1840 edition simply contained the Daily Offices and some Hymns. The 1841 edition appears to be the first 'fuller' translation of BCP1662. The 1848 edition doesn't include the Forms of Prayer to Be Used at Sea, only includes the order for making deacons from the ordinal (these are mentioned separately in any case in the Constitution / Te Pouhere), and omits the Articles of Religion (also mentioned separately in the Constitution / Te Pouhere) and the Table of kindred and affinity. The 1883 edition includes the full Ordinal, the Articles of religion and the Table of kindred and affinity. Later editions provide different translations into the Maori language.
Surprisingly, with its centrality in the Constitution/Te Pouhere, there is no mention of Te Rāwiri in Title G's most recent 'complete' listing of our agreed formularies: Appendix – Formularies as at 2012. In saying this, we note that, in both the English and the Maori versions of the Constitution / Te Pouhere, The Book of Common Prayer 1662 and Te Rawiri are two separate, distinct resources. Would not this make one think that both should be mentioned in any list of Formularies? Does anyone know of a ruling that what has been agreed about the English-language BCP1662 applies to Te Rāwiri and vice versa?
This leads to more specific questions. When was the ordinal in Te Rāwiri last used? Noting that it is unclear, with the (English language) ordinal being a formulary, whether a Maori alternative ordination rite may be authorised by a bishop, is the ordinal in Te Rāwiri still being used? [It is generally unclear whether a bishop can authorise a service alternative to that for which there is already a formulary; it is specifically unclear whether a bishop can authorise an alternative ordination liturgy – it's use being singled out in Standards required of bishops].
There might be some more detailed questions. Was the BCP 1662 requirement for all priests and deacons to say daily the Morning and Evening Prayer either privately or openly (Concerning the Service of the Church), a requirement removed in our Church in 1988, was this ever in Te Rāwiri? The BCP 1662 ruling of confirmation prior to Holy Communion was also removed in 1988 – does this still apply from Te Rāwiri ("Na, e kore tetahi e tukua ki te Hapa Tapu, kia whakaukia ra ano, kia whai hiahia ranei ia kia whakaukia")? Similarly, The BCP 1662 Commination service was removed from our formularies, is it still usable from Te Rāwiri?
Is this discussion also providing other examples that we do not agree about what we agree about?
Similar Posts: