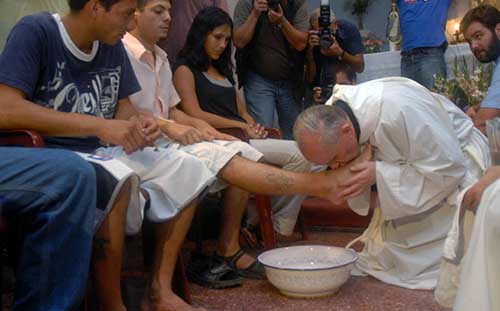 Last year Pope Francis washed the feet of women as well as men in the usual Holy Week ceremony. The instructions for the rite call for "men who have been chosen". Often recent Vatican translations into English will insist that "men" includes "women", but in this case many of those same people are insisting that "men" this time excludes "women"!
My understanding is that many are regarding the pope's action as interpreting the rubric, as he is the supreme legislator and interpreter, and so they are including women in the footwashing. This appears to be the approach in the Roman Catholic diocese here in Christchurch (NZ).
The U.S. Conference of Catholic Bishops website says
it has become customary in many places to invite both men and women to be participants in this rite in recognition of the service that should be given by all the faithful to the Church and to the world. Thus, in the United States, a variation in the rite developed in which not only charity is signified but also humble service.

While this variation may differ from the rubric of the Sacramentary which mentions only men ("viri selecti"), it may nevertheless be said that the intention to emphasize service along with charity in the celebration of the rite is an understandable way of accentuating the evangelical command of the Lord, "who came to serve and not to be served," that all members of the Church must serve one another in love.
But recently it was reported that
Three years ago, Madison Catholic Bishop Robert Morlino issued guidelines that gave priests the option of either using only men or not celebrating the ritual at all. Given the heightened attention to foot-washing last year, some parishioners thought Morlino might re-evaluate his position.

That has not happened. Brent King, the diocesan spokesman, said priests have the same two options this year — men-only or no ritual.
Fr. John Zuhlsdorf fisked that article here.
*****
Some resources for Holy Week
Palm Sunday Service
Reflection on Palm Sunday collect
Maundy Thursday Service
Good Friday Service
Easter Vigil Service
Easter Season Services
Reflection on the Easter Season
Similar Posts: