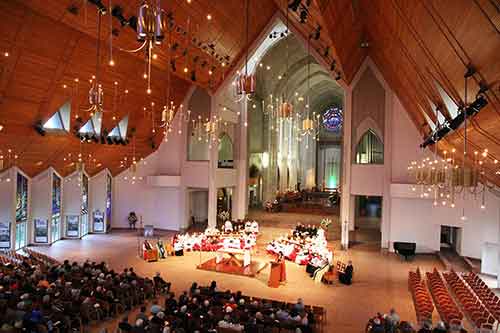 Auckland's Holy Trinity Cathedral has just been reopened after being closed since the Day of Pentecost to remove a "bridge" and hanging lotus-flower-type-thing that dominated (read 'blocked') views from the Pacific-fale-style nave to the Gothic-Revival-influenced chancel.
Here is the view as it was: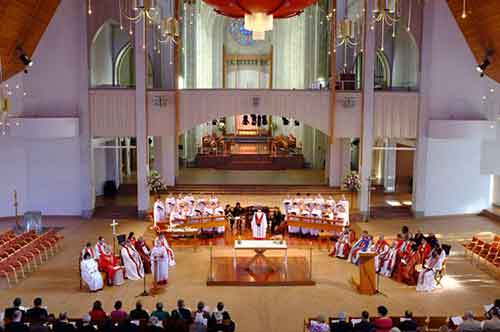 Simple changes in layout, and architects starting from what is wanted/needed "on the inside", make surprising difference to our experience of worshiping as a community.
To whet your appetite further, here is the planned worship space of Mosteiro São Bento in Brazil: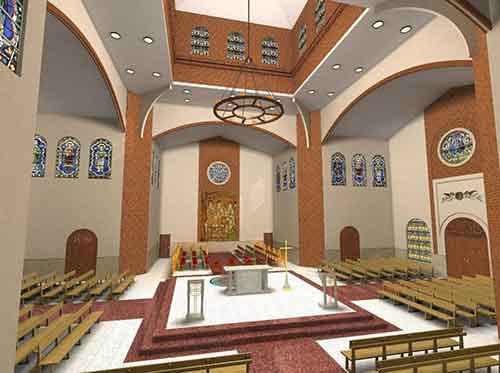 We must be clear what we want our worship space to be, now and for the future. As just one example of thinking forward, recently our Christchurch diocesan synod, with our diocese post-quakes looking forward to much building and renewal, passed the amendment I moved to a motion encouraging baptism, that our synod
encourages ministry units planning new church buildings or renewing their worship space to seriously consider having a highly-visible font in which it is clearly possible to baptise "by immersion in the water, or by pouring water on the candidate".
There is a lot on this site about architecture aiding community worship. Enjoy exploring it. And applying it.
Similar Posts: