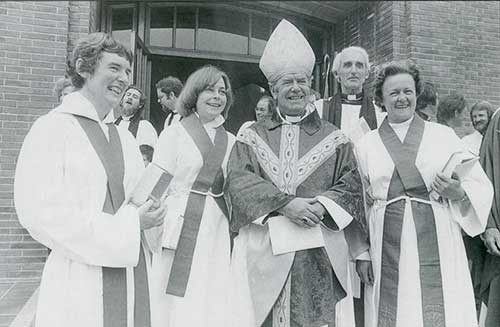 On 3 December 1977, three women were ordained to the priesthood: Rev. Jean Brookes, Rev. Wendy Cranston, and Rev. Heather Brunton. They were the first women to be ordained priests in New Zealand. This was the fourth Anglican province to allow women to be ordained to the priesthood.
This year, Sunday 3 December is hence the 40th anniversary of this event. There is a good summary on Anglican Taonga.
Significantly, there has been no significant controversy around the ordination of women in this province – no flying bishops or calls for alternative episcopal oversight, etc. If anything, the growing influence of Sydney-like Anglicanism here might mean that is yet to come.
A commemorative liturgy of the Eucharist has been prepared by Archdeacon of Auckland Carole Hughes and a group of advisers. The suggestion is that you can draw resources from it, especially the collect:
God who has created us in your image,
as we remember 40 years of the ordained ministry of women in these lands
may the gift of memory become our treasure,
may our present time celebrate prophetic voices
that we may offer vision and hope for the future.
Through Christ Jesus,
who is alive with you and the Holy Spirit,
one God, now and for ever. Amen.
And the Hymn written specially for this occasion:
Praise God for faithful women
Tune: Thaxted (I vow to thee my country)

Praise God for faithful women
who, from the Gospel's birth,
have lived their lives for Jesus
in every land on earth
by leadership and teaching,
with work of loving care,
as visionaries and mystics
in solitude and prayer.
They stand throughout our history
as signs of hope and grace,
revealing Jesus' presence
within their time and place.

Give thanks for their persistence
in claiming Jesus' call
to be what he has made them,
whose church includes us all:
to serve as priests and leaders,
stand at their brothers' side,
enriching Jesus' people
with gifts too long denied.
Old barriers have fallen;
the Gospel sets us free
to follow where God leads us
in true equality.

So we, who walk together
into the coming day,
give thanks for faithful women,
who join us as we pray
to share with those we care for
the truth we have believed,
and bear into the future
the light we have received.
With called and chosen women
who lead us in God's ways,
we bring our dedication,
our offering of praise.
by Marnie Barrell, 2017
Clarification: For some readers here, the mention of a "liturgist" leading the service will be confusing. It is not used to mean, as most use it, a scholar in liturgics. Some NZ Anglicans use "liturgist" to refer to a co-presider, usually a lay person, at a Eucharist. Although there is no change to another leader indicated [until the Blessing of Priests], one presumes that a priest or bishop is understood to take on the normal roles of absolution, leading the Eucharistic Prayer, and so on.
If you appreciated this post, do remember to like the liturgy facebook page, use the RSS feed, and sign up for a not-very-often email, …
Similar Posts: