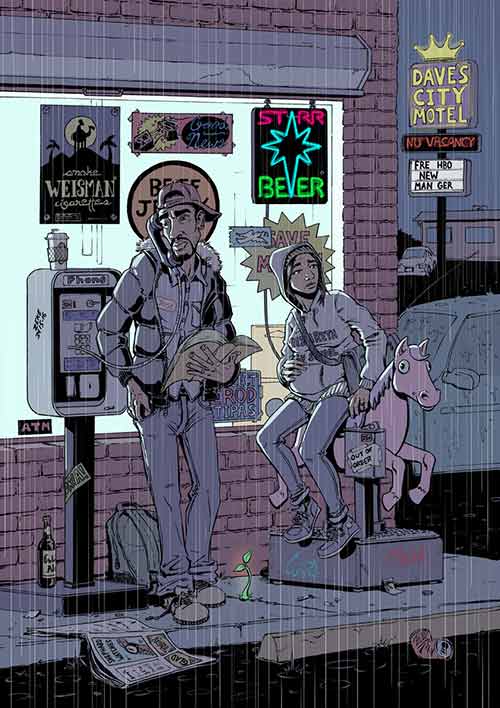 The Incarnation is into the real world – not into a sanitised, perfected world. We do not cleanse our lives in order to have a purified heart to welcome God in Christ. God in Christ comes into the mess of our sinful, ordinary hearts and lives to begin the work of transformation, transfiguration.
I am so taken with the above image by Everett Patterson and share it with you all as part of my own Christmas hope that each and every one of us who gathers around this site, however messy and ordinary our lives may appear, may hold onto the glimmer of hope that God is with us.
Everett writes about this image:
The main goal of this illustration was to pack as many clever biblical references into the scene as possible. I won't list every one (there are at least a dozen), but a few that I'm proudest of are: the verse from the prophet Ezekiel in the graffiti on the phone kiosk, the way the "Save More!" behind Mary's head looks kinda like "Ave Maria!," and the two ads for "Glad" and "Tide" on the newspaper (get it?).
I also joined Linus in my prayer for each of us that, with him, the oft-repeated "Fear not!" be comfort enough for each of us…
Whether you regard the Christmas Season as concluding on Christmas Day, Epiphany, the Baptism of the Lord, Candlemas, the Sunday following Candlemas, or are Orthodox, or Armenian, and celebrate the Incarnation on another day and see the season differently… in the Southern Hemisphere, and certainly in Aotearoa-New Zealand, this is our go-slow time…
If you appreciated this post, do remember to like the liturgy facebook page, use the RSS feed, and signing up for a not-very-often email, …
Similar Posts: