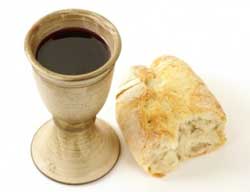 Divine Liturgy (Greek: θεία λειτουργία, Georgian: საღმრთო ლიტურგია, Bulgarian: Божествена литургия, Russian: Божественная литургия, Armenian: պատարակ, Serbian: Света Литургија, Romanian: Sfânta Liturghie) is the common term for the for the Christian service with bread and wine in the Byzantine tradition. It is used in the Eastern Orthodox and Eastern Catholic Churches. Armenian Christians, both of the Armenian Apostolic Church and of the Armenian Catholic Church, use the same term.
The New Testament uses λατρεία and λειτουργία almost synonymously. λειτουργία occurs more often (Rom 9.4; Acts 24.14; Lk 1.23; Heb 10.11)
The common Hebrew word in the Old Testament for a worship service or rite is עבדה `abodah (Ex 12.25; 13.5). The related verb 'ābad (to work, to serve) frequently has the sense "to worship," but the specific verb meaning to perform a rite, especially by ministering at the sanctuary, is more commonly šērēt (Ex 28.35, 43). The Septuagint translates 'ābōdâ and 'ābad by λατρεία, "worship" and λατρεύειν, "to worship" (Ex 12.25; Jos 22.27) but also by λειτουργία and even the more general ἔργον, "work" and κάτεργον, "service."
I do not think "Liturgy" is ever used in the New Testament explicitly for the Christian service with bread and wine, underscoring, once again, our tendency to today more commonly use terms for this service that the New Testament used little or not at all.
The word liturgy is often explained as deriving from "work of the people". This is an important insight. Originally, of course, it was more the "work for the people". In the secular context it was the public service of collecting the rubbish, etc. Recovering this second understanding may have real value. When we are participating in the work of the Divine Liturgy, we are doing this work for others…
This is now the fourth in this series. The titles explored in this series so far:
The Lord's Supper
Holy Communion
The breaking of the bread

Acknowledging Wikipedia and the New Catholic Encyclopaedia
Similar Posts: