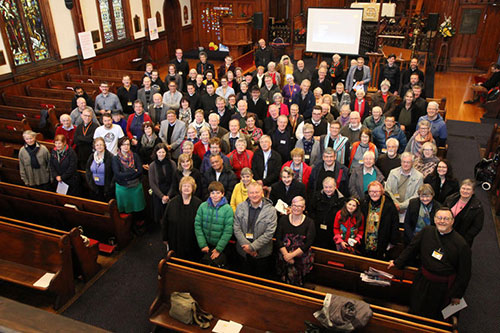 Last week (15-17 August), about 140 people gathered from all over Aotearoa New Zealand and from Australia (and possibly elsewhere) to St Peter's on Willis Street in Wellington for the second Anglo-Catholic Hui. I was there with a good number from our diocese, and also very appreciative that our diocesan bishop, Bishop Peter Carrell, made time to come and be part of this event.
I have been to many, many conferences and events for ongoing learning and development, and this ranks right up there as one of the most enriching, encouraging, and fun. As if to underscore that 'catholic' means universal, it was heartening to see such a good cross-section of ages.
Bishop Stephen Cottrell was the principal speaker for the event. Bishop Stephen is the Bishop of Chelmsford in the Church of England; he has served on the Archbishop of Canterbury's 'Springboard' UK-wide evangelism team; he is a well-known speaker and writer (including the popular 'Pilgrim Course' discipleship programme).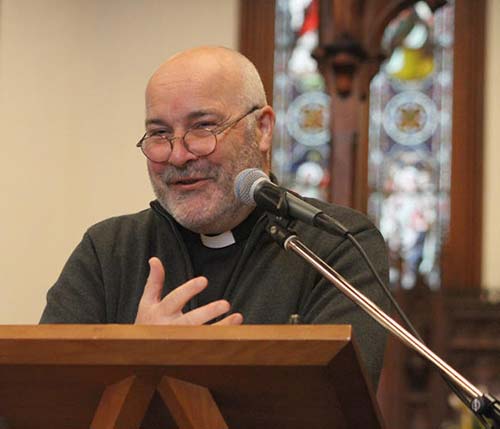 The Bishop's five addresses will be made available in the future. There was a strong focus on evangelism and growth, but not as so often presented, rather this was based on actual research and shifted from focusing primarily on a Damascus-Road instant-conversion event (whilst not denying this possibility) to a gradual growing (normally over a period of 4-5 years) of an Emmaus-Road model of nurture. I found Stephen constantly articulated and reinforced my own insights, life, and ministry.
Bishop Stephen highlighted six dimensions of such a life of nurture, transformation, and evangelism:
contemplative,
catechumenal,
ecclesial,
sacramental,
prophetic, and
beautiful
There was a Eucharist each day, and the Daily Offices. There was fellowship, good food, music across a whole spectrum of styles, a concern for social justice, and time spent at the Home of Compassion and connecting with the work of Mother Suzanne Aubert.
There were workshops. The workshops I presented were around "Noble Simplicity" – the value and beauty of simplifying and uncluttering worship in the areas of the worship environment; vesture; gestures, posture, movement; words; music and silence.
My gratitude to all the speakers, organisers, leaders in workshops and worship, and preparers of food. A fuller story by Julanne Clarke-Morris (Anglican Taonga) may be found here.
If you appreciated this post, do remember to like the liturgy facebook page, and sign up for a not-very-often email, …
Similar Posts: