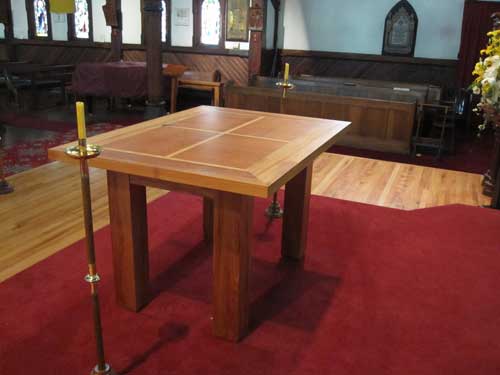 Surprisingly and sadly, nothing whatsoever is said in the Christchurch diocesan Architectural Design Guidelines (PDF) about the size and shape of the altar. Nor about whether it be movable or normally left in a central position. These Design Guidelines are to design new church buildings after the extensive damage through the Canterbury earthquakes. The Guidelines can also be used for repairing and renewing buildings – and wider afield. So I hope that people beyond Canterbury can find useful points in this post and also share your insights.
I think neglecting to reflect on the altar is a wobbly part of this document. Thankfully this document describes itself as a "living document" with invitation to provide feedback. This is the third post on this document, and effectively the eighth reflecting around these particular building needs.
These posts and your comments are being forwarded as part of the feedback that the Design Guidelines document asks for.
I think a significant problem for Anglicans is the unreflecting acceptance of past ways of doing things. An example: the ongoing popularity of the burse and veil never ceases to astonish me, even as the last remnant of ritualism in communities that have long ago abandoned most other inherited ritual.
The burse and veil should have been one of the first things to go with renewal of our liturgical tradition. Instead, I still get asked for advice not, as one might hope, what to do with the burse and veil after discarding its use (but some still having emotional attachment to it), but about making new sets in communities where they wouldn't dream of using more significant liturgical paraphernalia. In liturgy we so often encounter emPHAsis on the wrong syLLABle. There the burse sits on the altar vertically like some sort of mini liturgical cardboard tent – with absolutely no meaning or purpose.
So, similarly, we find brand new church buildings furnished with a brand new sideboard-shaped altar just because the community and its architect did not pause to reflect on what the altar means, or how it functions in the community, in contemporary worship.
A contemporary altar is lower than the old intended-to-be-against-the-wall, sideboard-style altar. It more clearly images a table. If you haven't yet, I suggest you read my church architecture post on the altar before continuing with this reflection.
A strong note must be made that, in communities that have lost their building, their altar may have survived and many in the community may want to see their traditional sideboard-shaped altar re-used in a more contemporary environment. I have seen the whole interior of a contemporary church worship space spoilt by the insistence on retaining and using the previous building's now-totally-out-of-place furnishings.
This issue will need to be dealt with in the community with great sensitivity. It is wonderful that people invest sacred furniture with such significance. Education and discussion would form a basis for this.
If the community seeks to incorporate the sideboard-shaped altar from a previous building into a contemporary one some options include:
Use the wood or stone from the previous altar as the basis for the new altar. Cutting a third off the length of the altar, for example, and lowering it slightly, may produce an ideal contemporary table-like altar which can better hold the sense of all gathering around it. Doing this may retain artwork and carving. The part that has been removed might be used for a matching ambo/lectern/pulpit, or for a credence table.
The altar might be dismantled and the material used in several pieces of sacred furniture in the new building.
The front of the altar may have been carved, or have other artistic merit, and the front alone might be perfect on a particular wall. (Eg. the East wall)
The altar might be ideal to be placed, as intended, against a wall – in a side chapel; not to be used for Eucharist, but as a place to hold an aumbry, or open Bible, candles, an icon, flowers – a focus of quiet prayer.
In some places the old altar will appropriately revert to its apparent use – a sideboard to hold whatever is necessary, but not a noticeable focus in the worship space.
Some of these options may require the old altar to be deconsecrated.
What other ideas spring to your mind?
Photo of the new altar at St Michael and All Angels, Christchurch
Similar Posts: