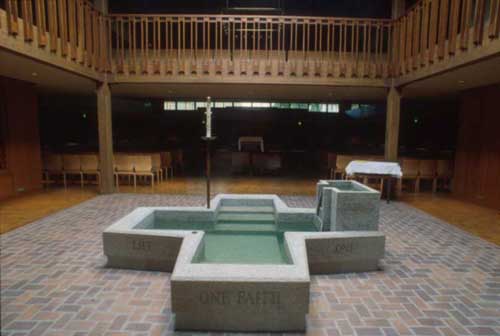 I am delighted to find echoes of my own input in the Christchurch diocesan Architectural Design Guidelines (PDF). My concern about the font can be found in the document.
These Design Guidelines are to design new church buildings after the extensive damage through the Canterbury earthquakes. The Guidelines can also be used for repairing and renewing buildings – and wider afield. So I hope that people beyond Canterbury can find useful points in this post and also share your insights. Commentors here can be assured that I am feeding what is put here through to those who are making the decisions.
I have already indicated disappointment that the altar isn't mentioned. I am similarly surprised that the words lectern, ambo, pulpit do not occur. There is also, surprisingly, no discussion about the cross as a central symbol.
About the font: on page 14 of the Architectural Design Guidelines, as a design implication, it states "Consideration of full immersion fonts parish by parish – Bishops view of full immersion fonts?"
I must say, I find "Bishops view of full immersion fonts?", as a question, a very surprising design implication for our diocesan synod to have accepted.
There is a strong understanding that the listing of options in our Prayer Book begin at the most preferable. For baptism, our church teaches that, "The bishop or priest baptises each candidate for baptism, either by immersion in the water, or by pouring water on the candidate." (NZPB/HKMA page 386; my emphasis)
I would once again urge that whenever possible, as a mission-minded, baptising community, in renewed worship spaces serious consideration be given to having a font that allows for immersion.
Similar Posts: