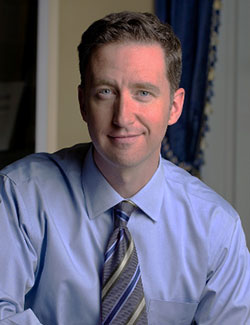 Dr Denis McNamaraDr Denis McNamara, of the Liturgical Institute, Chicago, is an architectural historian and theologian.
Dr. Denis McNamara is assistant director and faculty member at the Liturgical Institute of the University of Saint Mary of the Lake, a graduate programme in Liturgical Studies.
He is in Christchurch at the invitation of the Catholic Bishop of Christchurch, Bishop Barry Jones, to speak about church architecture as a "built form of theology".
Yesterday another church building was demolished as a result of the Canterbury quakes. I am not sure that anyone here has an accurate tally of how many church buildings we have lost and are replacing. Church architecture is a real and great need here. In New Zealand, the secular media usually takes little interest in religion, so it is of interest, with so much destroyed by the quakes, that the Tuesday Press published an interview with Dr McNamara:
…it important to realise that church architecture is theology in built form….Building great churches requires two things: first, a theological knowledge of what a church is at the core of its own nature and, second, the best architectural skill possible informed by this theological knowledge…. One doesn't hire an architect who has built three schools and a sewage treatment plant who says he'll learn church architecture in time to submit the drawings…
Last night there was a public lecture, excellently attended. I was delighted to be able to attend this lecture where he stressed the above points in a theological framework of anticipated eschatology: don't rush; architects of church buildings need to be experts not just in architecture but in church architecture expressing theology; don't let fear motivate.
I will rework the points of his lecture into a blog post in the near future. Meanwhile I leave you with some video clips:
Previous posts on church architecture:
Similar Posts: