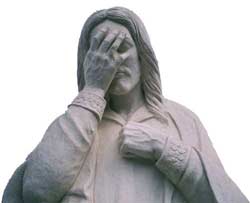 As I travel I stop and visit church buildings.
Recently, on my holiday, I stopped at four Anglican church buildings in different townships. The names have been changed to protect the guilty.
First stop. St. well-actually-I-cannot-tell: This had a big notice board facing the street. No service times. Next to the word "contact", a small white board had been added (covering, I presume, a previous contact option) so that it was blank. The church building was locked.
Second stop. St. well-actually-I-again-cannot-tell: The garden was beautifully kept; someone had been tending it in recent days. A glass notice board with nothing in it was attached to the locked door of the building.
Third and fourth stops. This town has two church buildings, both with identical signs: "Congregation of St. Candidus & St. Dismas – 9:30am. 4th Sunday in the month at St. Candidus' all other services at St. Dismas'". I know you will believe me when I tell you, because I could not have thought this up: There was no indication which building was which!!! You could not tell if the Sunday service was here – or at the other building! Nor was there a map at one building how to find the other! The church building (I know you are surprised!): locked.
Upon returning home I checked. Not a single one of these four have a website. You can, however, find them on the diocesan website, where each has its own page. The diocesan web page for the first two provide the street address of the buildings, but no service times, and no contact phone number. The next stop has a similar lack of information – but does provide a phone number. Each page has a form to fill in where you can send a request. I completed a form asking for the time I could come to a service. That was over a week ago. I know again you are surprised: I have received no reply.
Welcome to the world of Anglican evangelism, the world of carefully-worded strategic plans, and community-agreed mission statements. A world still struggling to catch up with the nineteenth century of clear, useful notice boards, let alone that of the twentieth century of web 1.0. Let's not even start discussing the current millennium…
Similar Posts: