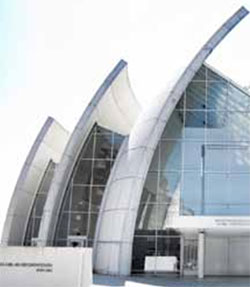 There is discussion about the lack of participation of liturgists in the design of recent church buildings. There is a call for architects to be more concerned about making buildings that are appropriate spaces for people to worship in – individually and together; and less concerned about winning architectural awards.
"The lack of integration between the architect and the faith community has at times been negative," said Cardinal Gianfranco Ravasi, the head of the Vatican's Pontificial Council for Culture. "Sometimes it goes wrong." (source)
These words echo those of Antonio Paolucci, the director of the Vatican Museums, who was also an Extraordinary Commissioner for the restoration of the Basilica of Saint Francis in Assisi after it was badly damaged in the earthquake of 1997, as well as director of the principle system of museums in Florence. He talked about, "Spaces that do not invite (us) to meditation, devoid of the sense of the sacred, without a breath of mystery or religion." Dr Polucci was speaking at the launch of a book on the new church buildings in the residential areas of Rome.
Regulars here will realise my interest in embodying liturgical and spirituality insights into our architecture. Here are some posts which explore this further:
The community
The cross
The altar
The font
The ambo/lectern/pulpit
The presider's chair and the cathedra
The transitional cathedral
Achitectural Design Guidelines 1
Achitectural Design Guidelines 2
Achitectural Design Guidelines 3
Achitectural Design Guidelines 4
eating in church
planning inside out
If you appreciated this post, there are different ways to keep in touch with the community around this website: like the facebook page, follow twitter, use the RSS feed,…
My thanks to a friend who pointed me to this discussion.
Similar Posts: