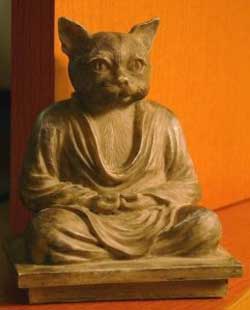 The story of the Guru's cat is worth repeating:
When the guru sat down to worship each evening, the ashram cat would get in the way and distract the worshipers. So he ordered that the cat be tied during evening worship.

After the guru died the cat continued to be tied during evening worship. And when the cat died, another cat was brought to the ashram so that it could be duly tied during evening worship.

Centuries later learned treatises were written by the guru's disciples on the religious and liturgical significance of tying up a cat while worship is performed.

From Anthony De Mello, The Song of the Bird
This post is not about getting rid of everything that leaders in a community do not understand. If that were the case, those leaders with little to no liturgical formation, training, and study would get rid of pretty much everything…
This post is about reflecting on practices that once may have had meaning and purpose in one context, that now in our current context – no longer make sense, and in fact distract from the purpose and flow of contemporary liturgy.
Something that made sense when the altar was like a sideboard against the East wall, may actually no longer make any sense with a square altar set in the midst of the community… burse and veil…a dismissal and then staying in the same place…
The presider standing at the north side of the altar made sense when the altar stood between the choir stalls – but standing on the north side of the altar by the east wall makes no sense whatsoever – it is a guru's cat…
Proclaiming the gospel to the heathens in the north (Wellington? Auckland?…)…
The story of the guru's cat is an encouragement (challenge) to review our worship carefully and deeply. Why do we do that? Why do we say this? Why do we use that? If we don't know the origin of a practice, research. Is this still appropriate today? Is this achieving what it was originally introduced to do? Or is it another distraction, clutter, confusion,… another guru's cat…
ps. I once made a retreat led by Fr Tony De Mello.
Similar Posts: